Roasted butternut squash? Check! Goat cheese? Check! Walnuts? Check! Arugula? Check! I love this arugula and roasted butternut squash salad, this is honestly probably one of my favourite salads to eat. It's filling, delicious, healthy and, if you make a little extra, it's a great lunch for work the next day.
I guess it does take a bit more time to make than your average salad, but that's mostly just cooking time for the squash and it's worth the time.
So if you don't already have dinner plans tonight or this weekend, pick up a butternut squash and make this salad. It goes great with some simple chicken or a steak.
Total Time: 40 minutes
Servings: 4 small or 2 large sides
Ingredients:
2 cups butternut squash, peeled and cut in 1-inch pieces (about half the squash)
1 tbsp olive oil
1/2 tsp salt
1/4 cup walnuts, chopped
5 to 6 cups baby arugula
1/3 cup very thinly sliced red onion
2 oz goat cheese
Dressing:
3 tbsp olive oil
4 tsp white wine vinegar
1/2 tsp Dijon mustard
1/2 tsp maple syrup
1/4 tsp salt
1/4 tsp pepper
Directions:
Preheat oven to 400 degrees F. Put the butternut squash on a baking sheet, drizzle with olive oil and sprinkle with salt.
Roast for 25-30 minutes, stirring occasionally, until the squash is tender and becoming lightly golden. Allow to cool for a few minutes.
While the squash is cooking you can make the dressing. Whisk together oil, vinegar, mustard, maple syrup, salt and pepper.
To prepare the salad, place arugula and onion on large serving plate or in large bowl. Add cooled squash and chopped walnuts.
Drizzle with dressing and toss lightly. Crumble goat cheese over the salad.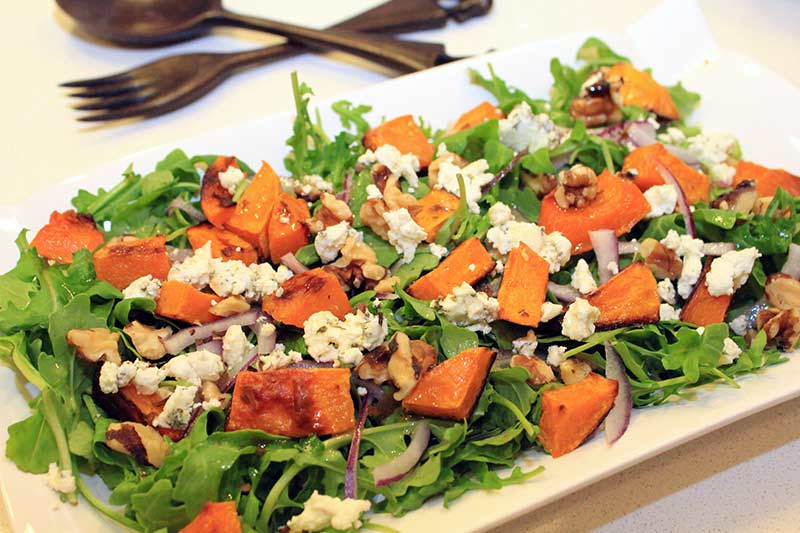 Recipe is from www.freshjuice.ca. The original recipe calls for acorn squash and hazelnuts, but I changed it to butternut squash and walnuts.