Do you love asparagus? I love asparagus, it's one of my favourite vegetables. And my favourite way to prepare asparagus is simply roasting it. If you've been blanching/steaming asparagus all your life, give roasting a try, it's so much more flavourful.  Since you'll be roasting some asparagus anyway, you might as well make this asparagus and mixed greens salad with lemon fennel vinaigrette.
James and I ate the whole thing for dinner, but this size could also work as 4 smaller sides.
This is  fresh, delicious and super healthy salad, perfect for any spring or summer dinner! You'll love it, even if it's pouring rain outside and you still can't eat on your patio. Enjoy!
Total Time: 30 minutes
Servings: 2 large (4 small)
Ingredients:
For the salad:
1/2 cup pecans chopped
1/2 bunch of asparagus, trimmed
salt and pepper to season
8 cups of mixed salad greens
For the vinaigrette:
2 tbs olive oil
1 1/2 tbs minced shallots
1 1/2 tbs lemon juice
1 tsp honey
1 tsp dijon mustard
3/4 tsp crushed fennel seeds
1/4 tsp salt
1/4 tsp pepper
Directions:
Preheat your oven to 350 degrees F.
Toss asparagus with oil, salt and pepper. Bake on rimmed baking sheet until it's crisp-tender 6 to 8 minutes. Let cool; cover and refrigerate until you're ready to use it.
To toast the pecans, bake them in a 350 degree F oven until lightly toasted, about 8 minutes. Let cool and chop up.
Meanwhile, in small glass jar fitted with a lid, combine the oil, shallot, lemon juice, honey, mustard, fennel seeds, salt and pepper. Shake until combined.
Combine the mixed greens and asparagus in a large bowl and drizzle with the vinaigrette as desired. Divide among plates and sprinkle with pecans.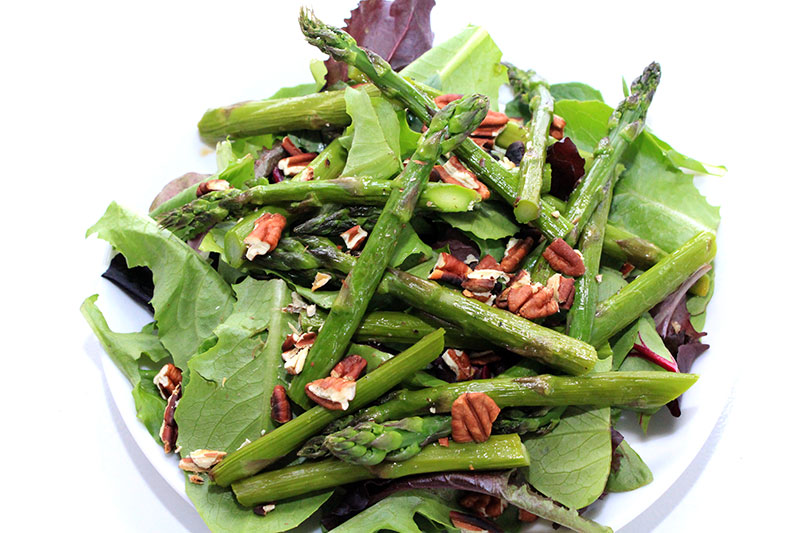 Recipe is from Canadian Living Magazine April 2011 issue and is also found at www.canadianliving.ca.