If you've ever watched Hell's Kitchen, you know that risotto is something they always have on their menu, and it's something they're always messing up. But, risotto, although very fancy sounding, is not that hard to make, especially if you don't have someone like Gordon Ramsay staring over your shoulder.
All you really need to make a simple risotto is a little bit of butter, some kind of aromatic like garlic, shallots or leeks, arborio rice, broth and parmesan cheese. Then you're free to add anything you like, some roasted butternut squash, asparagus and shrimp, fresh herbs, caramelized onions or anything you feel like really. I came across this recipe with bacon, leeks and peas and thought it sounded like a great combination. I mean, it has bacon in it, of course it's going to be good. It was creamy and delicious, just like risotto is supposed to be.
The one trick to making risotto is that it basically needs to be stirred constantly the entire time it cooks, so it does take a bit of time to make. As you stir, the rice releases starches which is what makes the risotto so creamy without the addition of any actual cream. So go ahead and pour yourself a glass of that wine you opened for this recipe and sip away as you watch your risotto come together.
Ingredients:
1 leek,

 white and light-green parts only

6 cups low sodium chicken broth
2 slices bacon cut into strips
1 1/4 cups arborio rice
1/2 cup dry white wine
1/3 cup frozen peas
1/4 cup finely grated parmesan cheese, plus more for serving
salt and pepper to taste
Directions:
Half the leeks lengthwise, rinse and dry them thoroughly and thinly slice. In saucepan, bring the broth to a simmer. Heat another saucepan, or large skillet, over medium heat. Cook the bacon until lightly browned but not crisp, about 5 minutes.
Add the leeks and cook, stirring often, until softened, about 2 minutes. Increase the heat to medium-high, add the rice, cook, stirring, until the edges are translucent, about 1 minute.
Add the wine and stir, until the wine is evaporated, about 2 minutes. Add 1 cup of broth. Reduce the head to medium-low and cook, stirring, until the broth is absorbed by the rice, about 2 minutes. Repeat this process over and over, adding more broth and stirring until the rice is al dente and the risotto is creamy. This will take about 35 minutes.
It's important to taste the rice when you think it's nearly cooked as you may not need all of the broth and you don't want to overcook the risotto. Stir in the peas after the final addition of broth.
Remove the saucepan from the heat, stir in the parmesan cheese, cover and let stand for 2 minutes. Season with salt and pepper and serve with additional grated parmesan cheese.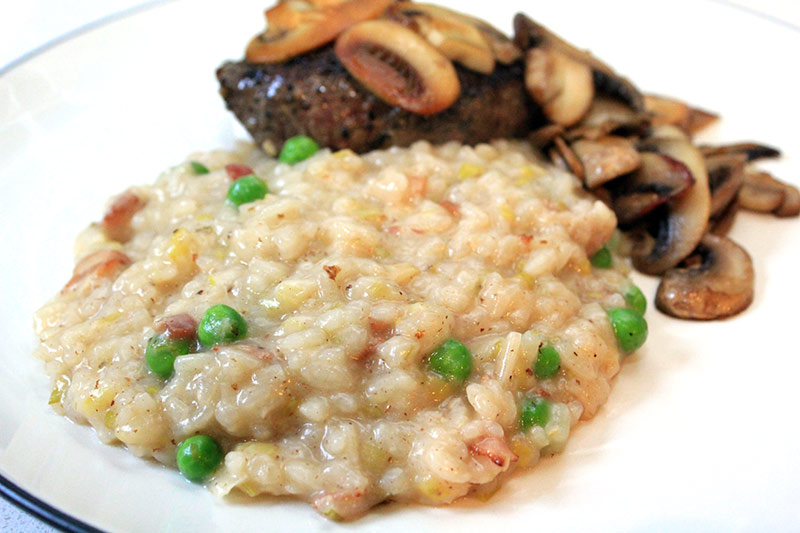 Recipe is from www.marthastewart.com.