Happy Friday! It's almost the weekend and it's time to start thinking about what you want to eat for dinner this weekend, well I know that's what I'm doing anyways. Most weeknights I don't spend a lot of time cooking, so when the weekend comes I'm happy to spend hours in kitchen, or 20 minutes in the kitchen and a couple hours just waiting around for something to cook, which is the case for what I'm showing you today. Today I'm going to show you a simple way to make barbecue oven-roasted pork ribs.
So if you like barbecue sauce and you like ribs then you should make these ribs this weekend. Not only are they delicious but they are so easy to make.
You won't believe how little hands on time actually goes into making something so good.
Total Time: 3 hours
Servings: serves 2 people (in my house anyways)
Ingredients:
For the ribs:
1 rack pork back ribs
1 recipe of barbecue sauce
3-4 tbs spice rub (see below)
For the spice rub:
3 tbs paprika
1 tbs packed brown sugar
2 tsp garlic powder
2 tsp ground cumin
1 tsp salt
1 tsp dried oregano
1 tsp onion powder
1 tsp pepper
1/2 tsp dried mustard
1/4 tsp cayenne pepper
(Makes 1/2 cup)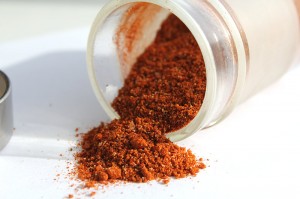 Directions:
Preheat oven to 325 degrees F.
Turn the ribs over so they're meat side down. You'll notice a thin skin like membrane that runs along that side of the rack. You need to remove this membrane from the ribs. It doesn't dissolve while cooking and can end up chewy or make the ribs harder to cut apart. It also prevents your rub or seasoning from reaching the meat. To remove it, simply take a sharp knife and cut into it, then you can just peel it off. I find it's easier to remove if you use a paper towel to grip it with your fingers where you made the initial cut. Just pull and peel it off, it should come off fairly easily.
Then sprinkle the rub all over the ribs, top and bottom. You want to evenly coat the ribs. Use about 3-4 Tbs for the rack. You'll have leftover from the rub recipe, but you can save it for next time or for cooking something else.
Once the ribs have been coated with the rub then wrap them tightly in tinfoil and place them on a tinfoil lined baking sheet. It's a good idea to line the baking sheet with foil even though the ribs are already wrapped in foil. Sometimes some of the grease from the meat leaks out and because they're cooking so long it ends up burnt to the pan and no fun to clean off.
Cook for 2 hours in the low heat. In the meantime you can make the barbecue sauce.
Once the ribs are cooked remove them from the oven and open up the foil. Allow them to rest for about 10 minutes. Turn your oven to broil and place the oven rack in the highest position. Quarter the rack of ribs for ease of glazing with the barbecue sauce. If the foil on the baking sheet is covered with any kind of grease from the ribs then throw it away and replace it for the glazing.
Place the ribs on the foil meaty side down and apply some barbecue sauce. Broil them for about 3-4 minutes until the sauce is bubbling and beginning to look shiny and glaze like. Keep an eye on them, you don't want the sugars in the barbecue sauce to burn. Repeat with the other side of the ribs and serve!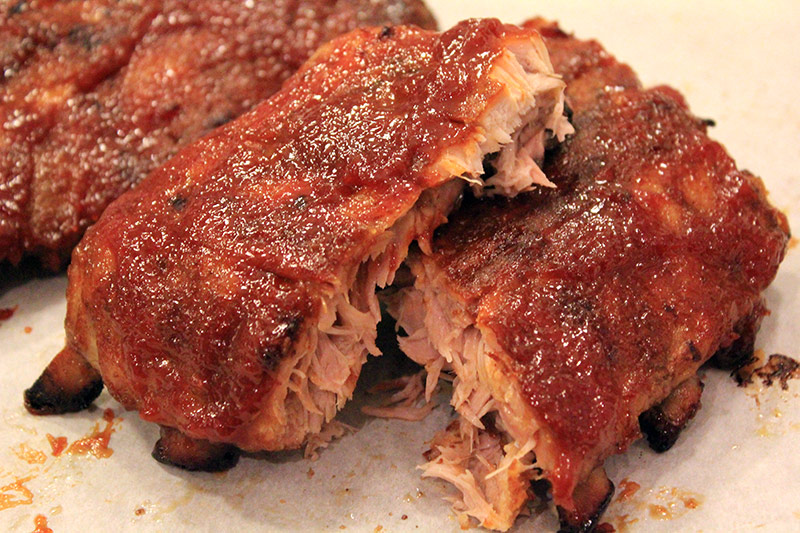 Universal Spice Rub is from www.canadianliving.com.