If you're looking for the only chocolate chip cookie recipe you'll ever need, look no further. These are the basically the only cookies I ever make, which does make me wonder I have almost 200 pins on my cookies board. Seriously though, if you want a big, chewy cookie (and who doesn't?), then this is the recipe for you.
The original recipe uses butter and while I'm normally a huge fan of using real butter, I once made these cookies with margarine and I actually liked them even better so I've been doing it that way ever since. I found when I made them with margarine they didn't spread out as much and remained a little thicker. This is really a personal preference and they're still delicious with butter.
The other great thing about these cookies is that they freeze really well unbaked. I never bake a full batch of cookies. While this recipe only makes 18 cookies, it makes 18 really big cookies and James and I don't need to eat 18 cookies at once. I normally bake a few for us to eat and freeze the rest portioned out onto a parchment lined cookie sheet. Once the little cookie balls are frozen I pop them into a freezer bag. Then whenever we want cookies we can quickly whip up a couple more, just increase the baking time to 18 minutes.
Makes: 18 large cookies
Total Time: 40 mins.
Ingredients:
3/4 cup unsalted butter melted (I use margarine melted)
3/4 cup brown sugar
1/2 cup white sugar
1 egg and 1 egg yolk
1 tbs vanilla extract
2 cups all-purpose flour
1/2 tsp baking soda
1/2 tsp salt
2 cups semi-sweet chocolate chips
Directions:
Preheat the oven to 325 degrees F and a line cookie sheets with parchment paper.
Combine the flour, baking soda and salt; set aside.
In a bowl, combine the melted butter, brown sugar and white sugar until well blended. Stir in the vanilla, egg, and egg yolk until combined. Mix in the dry ingredients until just blended. Stir in the chocolate chips.
Scoop the cookie dough loosely in a half cup measuring cup. Split the dough ball in half placing it on the cookie sheet with the torn side up. Cookies should be about 3 inches apart.
Bake for about 15-17 minutes until the edges are lightly browned. Cool on baking sheets for a few minutes before transferring to wire racks to cool completely.
*If baking cookies from frozen increase the baking time to 18 minutes or until the edges are lightly browned.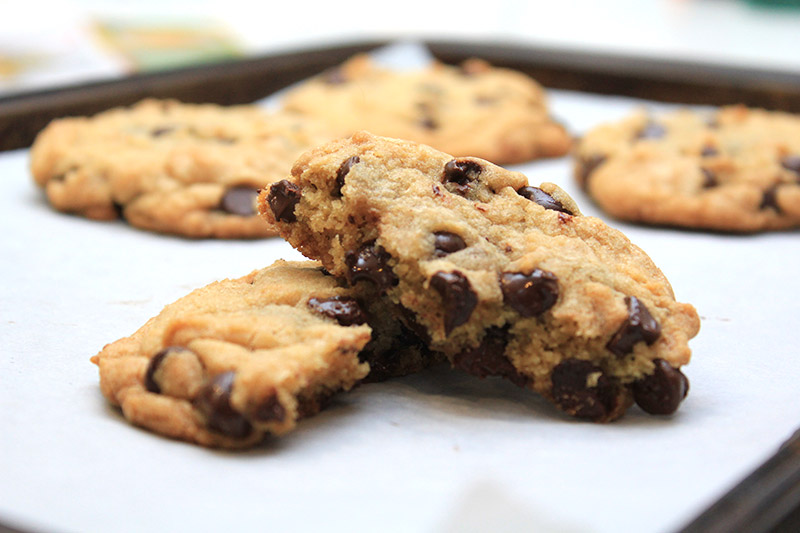 Recipe from Allrecipes.com