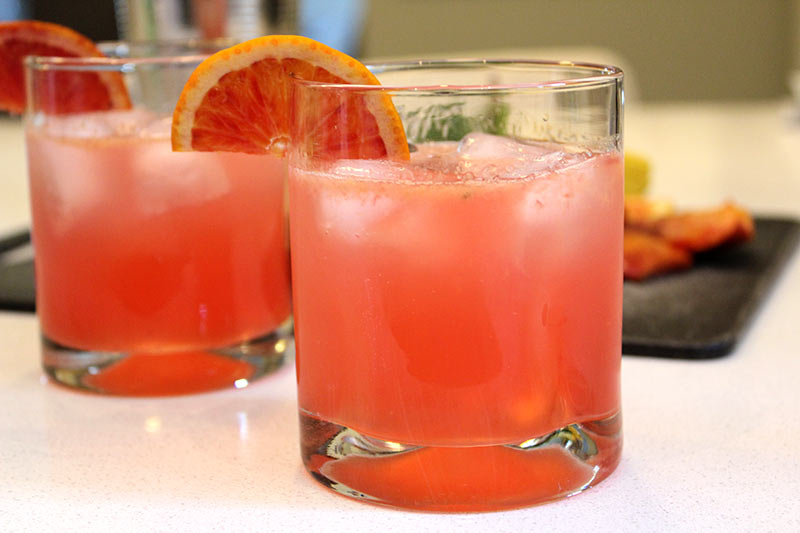 Wow I can't even believe how long it's been since I've posted anything on here. It's definitely been way, way too long! I guess for a while I just felt like I didn't have the time to dedicate to this, but in neglecting it so much I realized how much I loved it and really missed it. So I'm happy to say I've been enjoying lots of time in the kitchen and there will be many upcoming posts of great recipes!
To get things started on the right foot, how about some Blood Orange Mojitos! The weather in my little part of the world was just beautiful today and it really makes you feel like summer is on its way. I spent the day buying herbs and flowers for my garden and shopping at a local market. While I was out and about I came across some beautiful blood oranges. I've never bought blood oranges before but, as you can see from the photos, the vibrant colour made them hard to resist. I knew immediately, with the hot sunny weather today, that I wanted to use them to make a refreshing summer cocktail. Normally mojitos are my drink of choice in the summer. Nothing beats that lime and mint combo on a hot day. I've often mixed them up by making blackberry, blueberry and strawberry mojitos and now, blood orange mojitos!
If you've never made a drink like this before you need to make this asap. They were probably some of the best homemade cocktails I've ever made and I'm already looking forward to making them again… probably next weekend.
Total Time: 5 minutes
Servings: 2
Ingredients:
1/2 a lime
1-2 tbs sugar
handful of mint leaves (about 12)
1 blood orange
2 1/2 shots of white rum
club soda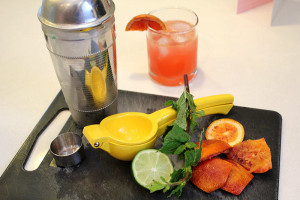 Directions:
Squeeze the juice of half a lime into a cocktail shaker. Add the sugar and the mint leaves and then muddle it all up to dissolve the sugar.
Cut one slice off the blood orange (after you cut off the very edge piece) to use for a garnish.
Squeeze the juice of the blood orange into the cocktail shaker. It's helpful to cut it up into a couple of pieces to make sure you can get all of the juice.
Add the white rum, a handful of ice and shake it all up!
Divide the shaker between two glasses with ice and top them up with club soda. Garnish with the slice of blood orange and serve!