Happy Friday! This week has been a short week because I had Monday and Tuesday off, but at the same time it's been a long week. Why does that always happen? Short work weeks always feel the longest.
At the moment though, all I'm thinking about is the crossfit/track and field competition I signed myself up for this weekend at Rocky Point Crossfit called Pentathawod (www.rockypointcrossfit.ca/pentathawod2014/). The Saturday will include weightlifting and a crossfit wod and then Sunday will be sprinting and track and field events including long jump, shot put and javelin. I'm super nervous but also excited and hoping it will be fun. Luckily it's a partner competition and my partner is awesome so I'm sure it will be lots of fun!
In the meantime, to distract myself from my nerves I'm going to think about the awesome foods I want to enjoy when the competition is over! Like perhaps making these very yummy bocconcini skewers with roasted red pepper dip! I made these when we had a little get together at our house and they were delicious. You marinate the bocconcini in fresh herbs, lemon, garlic and olive oil and then dip the skewers in roasted red pepper sauce.
For this recipe, I actually doubled the number of skewers I made, buying the container of bocconcini cheese with about 45 pieces and there was still plenty of sauce to go with it. So if you want more than 20 pieces, you can easily double the skewers and keep the same amount of sauce.
Enjoy the weekend!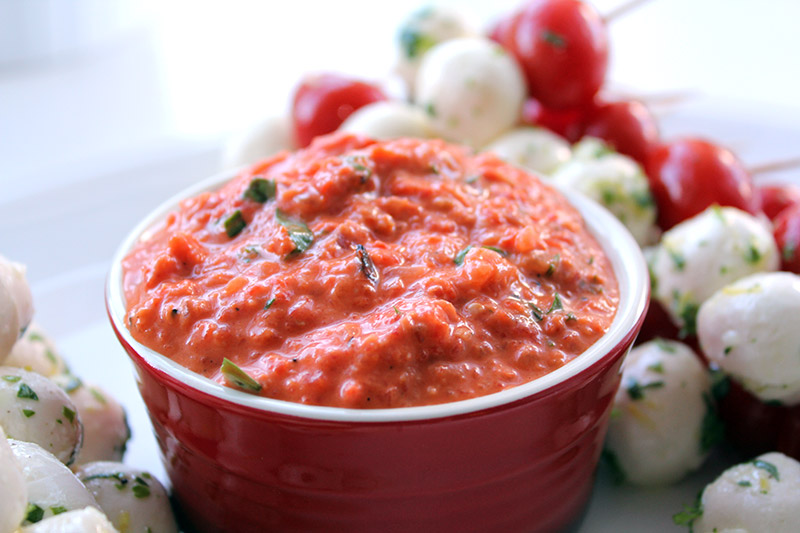 Total Time: 30 minutes of active prep
Servings: makes 20 pieces and about 1 cup of dip
Ingredients:
For the marinated bocconcini:
1/2 tsp lemon zest
3 tbsp lemon juice
2 tbsp olive oil
2 tbsp freshly chopped basil
2 tbsp freshly chopped parsley
salt and pepper to season
1 tub (about 20 pieces) bocconcini cheese
20 cherry tomatoes
For the roasted red pepper dip:
1 tbsp olive oil
3 cloves garlic chopped
1 cup chopped red onion
1 tsp fresh thyme
salt and pepper to season
half a 300 mL jar of roasted red peppers
1/4 cup mayonnaise
1/4 cup chopped fresh basil
Directions:
For the marinated bocconcini:
Combine the lemon zest, lemon juice, olive oil, fresh herbs and bocconcini cheese. Season with salt and pepper.
Allow to marinate in the fridge for a few hours or overnight.
Add the cherry tomatoes to the mixture so they get coated with some of the marinade.
When you're ready to serve, using toothpicks, skewer one bocconcini and one tomato on each toothpick.
Drizzle with remaining marinade.
For the roasted red pepper dip:
Heat a small pan to medium heat. Drizzle with olive oil and cook the onions until they're soft and translucent, about 5 minutes.
Add the garlic and cook until soft and fragrant, about another minute or two.
Stir the fresh thyme into the onion mixture, cook for another minute and then remove it from the heat and allow to cool to room temperature.
Using your food processor, puree the roasted red peppers with the onion mixture. Add the mayonnaise and pulse to combine. Season to taste with salt and pepper.
Refrigerate the dip until you're ready to serve. Just before serving, stir in the 1/4 cup of fresh basil.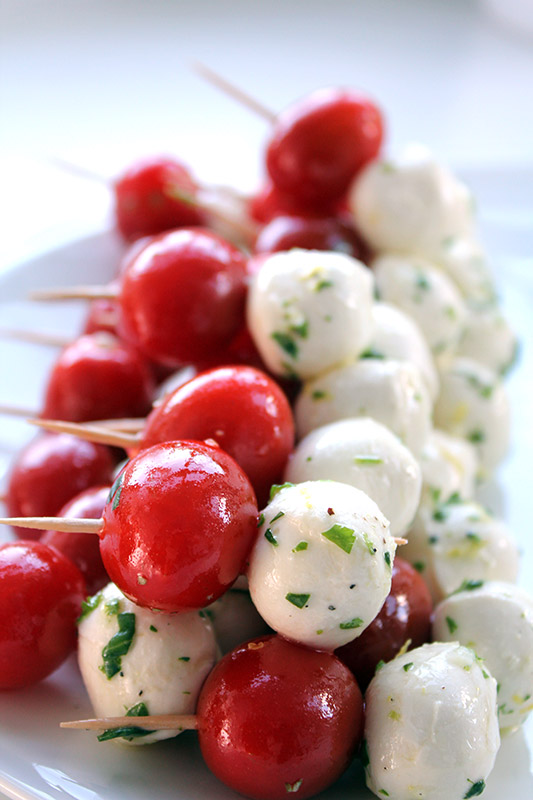 The recipe is from Canadian Living Magazine, July 2014 issue.