Eggs are one of my favorite things to eat. What's not to love about eggs? And I most definitely love eggs considering I have them for breakfast almost every day. This is not so much as a recipe as it is a combination of a couple of things that go great with scrambled eggs: sauteed mushrooms and Boursin cheese.
I like my scrambled eggs a little runny, there's nothing worse than overcooked eggs. Well I'm sure there are worse things, but overcooked eggs is pretty bad. I heard somewhere that if your scrambled eggs look cooked to their desired consistency in the pan, they will be overcooked by the time you get them out of the pan and into your mouth. So basically when you cook scrambled eggs you should go to take them out of the pan when they are slightly less done than how you want to eat them. This way they'll be perfect to eat.
Servings: 2
Total Time: 25mins
Ingredients
1 cup mushrooms
4 eggs
2 tbs butter
2 tbs green onions
2 tbs Boursin cheese
salt & pepper
4 slices sourdough bread
Directions
Slice mushrooms and saute them in a small frying pan with 1 tbs of butter for approximately 10 minutes, or until browned.  Season lightly with a pinch of salt and pepper.
While the mushrooms are cooking, crack 4 eggs into bowl, whisk and season with salt and pepper.
Dice 2 tbs of green onions and prepare Boursin cheese.
When mushrooms are almost cooked, melt 2nd tbs of butter in a separate frying pan.  Once butter is melted, pour in the eggs and cook until softly set, but still slightly runny, about 5 minutes.  As the eggs are cooking, toast your sourdough bread.
Divide the toast, eggs and mushrooms between 2 plates and finish with Boursin and green onions on top.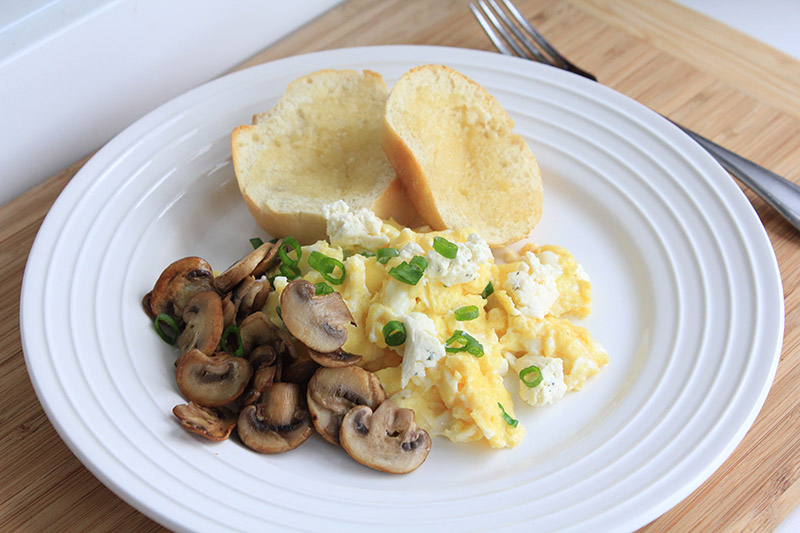 Recipe slightly adapted from Canadian Living Magazine, Sept. 2013 edition.