Ok if you've never made homemade buttermilk waffles you need to start making them right now. Go out and buy a waffle iron and make waffles. They are so much better than anything you could buy and hardly take any time at all to make. They're the perfect Sunday morning breakfast.
Plus you can personalize them to however you like. This time I used some blueberries and blackberries I had in the freezer and whipped cream, but you could use any fruit you like or just maple syrup or add some nuts; the possibilities are endless!
Another thing to note is they actually reheat really well. If there are any leftovers, I just keep them in a ziploc bag in the fridge and pop them in the toaster to reheat them. Instant homemade waffles.
The only hard part about making waffles is not eating 10 in one sitting. And also cleaning the waffle iron after. But that's what husbands are for, right?
Servings: 3-4 (it depends a lot on how big you make the waffles)
Total Time: 30 minutes
Ingredients:
2 cups flour
1 tbs baking powder
1 tsp baking soda
1 tbs sugar
1/2 tsp salt
3 eggs
1-3/4 cups buttermilk
1/2 cup butter melted (allowed to cool slightly)
1 tsp vanilla
Topping:
1 cup frozen blueberries and blackberries thawed (or fresh blueberries, or any berries you might have)
1 cup heavy cream
4 tsp sugar
1/2 tsp vanilla
Directions:
In large bowl, whisk together flour, baking powder, baking soda, sugar and salt.
In a separate bowl, whisk together eggs, buttermilk, butter and vanilla. Pour over dry ingredients and stir just until combined. Don't worry if the batter seems thick, it's supposed to be.
Heat a nonstick waffle iron and spray with cooking spray or coconut oil spray. Spoon batter into the waffle iron leaving some space around the edges, you don't want it to ooze out the sides when you close it. Close the lid and cook until crisp and golden and steam stops, about 5 minutes.
While the waffles are cooking you can make the whipped cream. Combine the cream, sugar and vanilla and whip with an electric mixer until soft peaks form.
Top your waffles with the berries and whip cream and enjoy!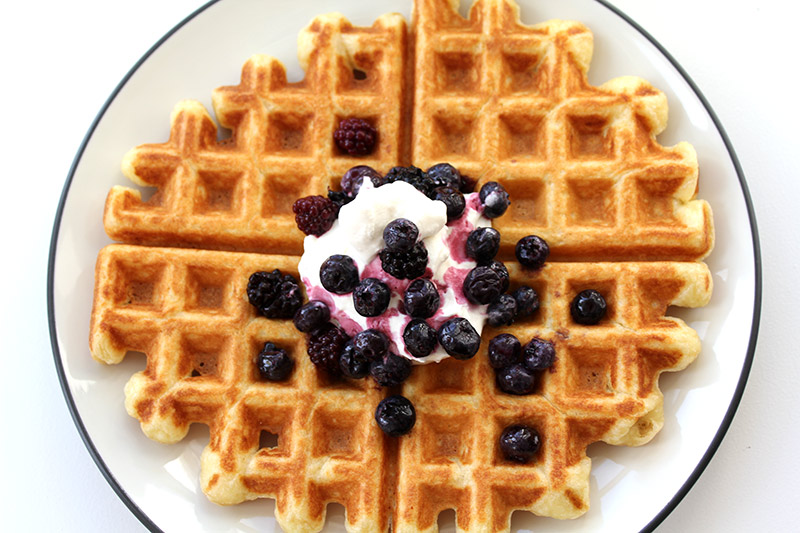 Recipe is from Canadian Living Magazine May 2014 issue or online at www.canadianliving.com.