I hope you all had a terrific Easter long weekend. It was so nice to have the four day weekend. Mine was fun filled with hiking, dinners with friends and family, hitting the gym, a wedding, eating too much chocolate, enjoying the sun between the rain and of course getting a little r&r on the couch.
For Easter dinner with my family I made carrot cake. This carrot cake is the best. It's so moist, flavourful, perfectly paired with a cream cheese frosting and easy to make. I probably should have posted this recipe before Easter, then you could have made it for dessert for Easter dinner, but you can still make for any special occasion, or just because you want carrot cake, which is as a good a reason as any.
I've made this cake as both the 9×13 inch sheet cake and as a double layer cake. The double layer cake definitely looks a bit more impressive, but I also don't think it goes as far as a sheet cake and it's more time consuming to assemble. Either way it tastes great, which is all that really matters!
Total Time: 1hr 15mins
Makes: 1 9×13 inch sheet cake or 1 9 inch double layer cake
Ingredients:
For the cake:
2-1/2 cups all-purpose flour
1-1/4 tsp baking powder
1 tsp baking soda
1-1/4 tsp ground cinnamon
1/2 tsp ground nutmeg
1/8 tsp ground cloves
1/2 tsp salt
1 lb carrots, peeled
1-1/2 cups white sugar
1/2 cup packed light brown sugar
4 large eggs
1-1/2 cups vegetable oil
For the frosting:
8 oz cream cheese, softened to room temperature
5 tbs butter softened to room temperature
1 tbs sour cream
1/2 tsp vanilla extract
1-1/4 cups powdered sugar
*The recipe notes you should double the frosting if you want to make a double layered round cake as opposed to a 9×13 inch sheet cake.
Directions:
Preheat the oven to 350 degrees F. Grease and flour a 9×13 inch baking pan or 2 9 inch round pans.
Whisk together flour, baking powder, baking soda, cinnamon, nutmeg, cloves, and salt in large bowl and set aside.
In a food processor, shred carrots (you should have about 3 cups); transfer carrots to a bowl and set aside. You can also shred by hand on a cheese grater if you don't have a food processor.
In the bowl of a standing mixer fitted with paddle attachment (or in large bowl and using hand-held mixer), beat granulated and brown sugars and eggs on medium-high until thoroughly combined, about 45 seconds. Reduce speed to medium, with mixer running, add oil in slow, steady stream. Increase speed to high and mix until mixture is light in color and well emulsified, about 45 seconds to 1 minute longer.
Turn off mixer and stir in carrots and dry ingredients by hand until incorporated and no streaks of flour remain.
Pour into prepared pan(s) and bake until toothpick or skewer inserted into center of cake comes out clean, about 32 minutes for 9 inch round pans and 40 minutes for a 9×13 inch pan.
Let cakes cool for about 10 minutes in the pan and then invert them onto a cooling rack to cool completely (the 9×13 inch cake can be cooled completely in the pan if you don't plan to invert and ice all the sides).
When cake is cool, mix cream cheese, butter, sour cream, and vanilla at medium high speed using a stand mixer fitted with whisk attachment (or in large bowl using handheld mixer) until well combined, about 30 seconds, scraping down bowl with rubber spatula as needed.
Add confectioners' sugar and mix until very fluffy, about 1 minute. Frost your cake!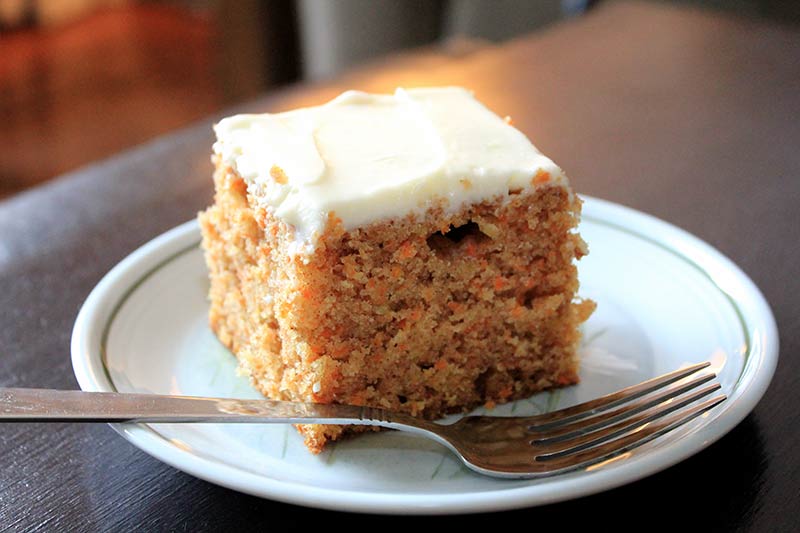 Recipe is from www.melskitchencafe.com.