These Chewy M&M Cookies were amazing, so soft and chewy and delicious. I actually made these cookies Easter long weekend, hence the pastel coloured M&Ms in them, but I forgot to post them last week, so here they are today!
The whole batch was quickly eaten up by my crossfit friends after a great Good Friday workout. Nothing like a post-wod cookie, still warm from the oven. Well maybe they aren't the most ideal post workout snack, but hey, it was Easter.
The original recipe wanted you to chill the dough for a couple of hours before baking the cookies. I didn't realize this and didn't have time to wait for the dough to chill since I wanted to take them to the gym, so I just went ahead and baked them. They were still very chewy and soft. The lesson is don't do what I do, read the whole recipe before you start! 🙂
They were so good I made them again last night when we had a friend over for dinner and I'll definitely make them again, maybe with different coloured M&M's.
Total Time: 1 hour
Makes: about 22 cookies
Ingredients:
3/4 cup unsalted butter, softened
3/4 cup packed light brown sugar
1/4 cup white sugar
1 large egg
2 tsp vanilla extract
2 cups all-purpose flour
2 tsp cornstarch
1 tsp baking soda
pinch of salt
1 cup m&ms
1 cup chocolate chips
Directions:
Preheat the oven to 350 degrees F.
Using a stand mixer fitted with a paddle attachment, or a handheld mixer, combine the butter, sugars, egg and vanilla, beat on medium-high speed until thoroughly combined, scraping down the sides of the bowl as needed. 
Add the flour, cornstarch, baking soda and pinch of salt. Mix until combined. Add the  M&Ms and chocolate chips and stir by hand.
Using a 1/4 cup measure, scoop scant quarter cup mounds of the cookie dough and place them on parchment lined baking sheets. Place about 8 cookies per baking sheet. Bake for 8-10 minutes, until the edges are set, lightly golden brown and tops are just beginning to set. The cookies will firm up as they cool so don't bake them any longer than 10 minutes, otherwise they'll end up hard instead of soft and chewy.
Cool the cookies on the baking sheet for 5 minutes then remove them to a cooling rack.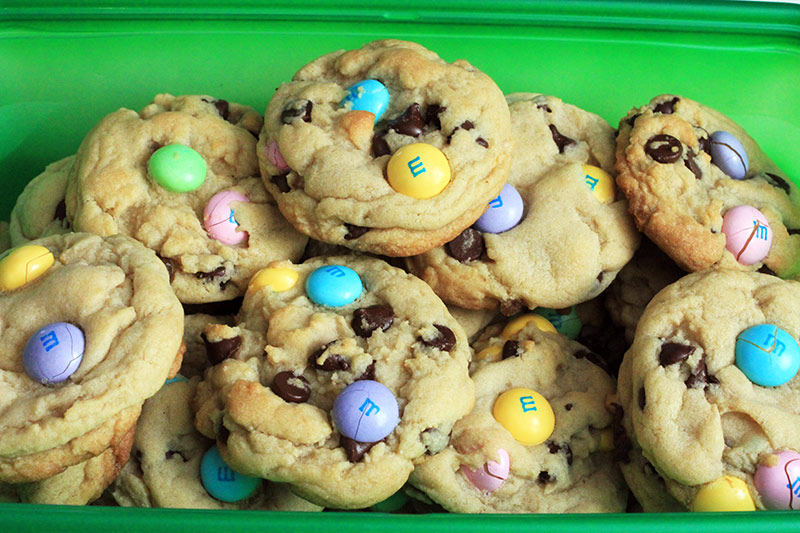 Recipe is from www.averiecooks.com.