The sun is shining, it's Friday, the weekend is upon us, what more could you want? How about some Chicken Parmesan for your Friday night dinner?
Have you ever made chicken parm? Or is it one those things that you only ever get when you eat out? If you've never made it yourself before, please try this recipe. It's simple to make, so delicious and would definitely impress any dinner guests you might have.
I served this with some simple roasted potatoes, but there was enough sauce that you could certainly make pasta. Plus you have plenty of time to cook noodles, toss up a salad or make another quick side while the chicken is baking in the oven.
Ingredients:
1/4 cup olive oil
2 cloves of garlic minced
pinch of red pepper flakes
1 28-oz can good quality tomatoes*
2 tsp salt
3 pounds boneless, skinless chicken breasts (3 whole breasts, split down the middle)
1/2 cup plain breadcrumbs
3/4 cup freshly grated Parmesan cheese
1/4 tsp freshly ground black pepper
1 tbs unsalted butter, plus more if needed
1 1/2 pounds fresh mozzarella cheese sliced
Directions:
Heat a saucepan over medium-high heat and add 1 tablespoon of the olive oil, the garlic and the red pepper flakes. Stir for 30 seconds. Add the tomatoes and 1/2 teaspoon of the salt. Simmer for 30 minutes.
Preheat the oven to 400 degrees F. Meanwhile, working on a large surface covered in plastic wrap, lay down the chicken breasts. Using a sharp slicing knife, cut each piece in half horizontally through the middle.
In a large prep pan or dish, combine the bread crumbs and 1/2 cup of the Parmesan cheese. Spread out to cover the whole bottom of the pan. Lay down as many chicken breasts as will fit on the mixture. Sprinkle salt and pepper over each piece and turn over, completely coating with the bread-crumb mixture, set aside on another dish. Repeat the process with the remaining pieces of chicken
Heat a large skillet over medium-high heat. Add 2 tablespoons of olive oil, along with butter, to coat the pan. Add the chicken breasts in one layer and cook until golden, about 3 minutes on each side. Remove and repeat the process for the remaining chicken, adding a little oil and butter to the pan as needed.
Spoon some tomato sauce into a 9 x 13-inch baking dish to cover the bottom. Place the chicken pieces in the sauce and top with mozzarella slices. Spoon over about 1 1/4 cups more sauce, and sprinkle on the remaining 1/4 cup of Parmesan cheese. Bake until golden and bubbling, 30 to 35 minutes. Let rest for at least 15 minutes before serving.
*Before you make the tomato sauce you need to lightly pulse the tomatoes in a blender or in a food processor. This works great, but if you have an immersion blender you can do this even more easily. Just submerge the end of the immersion blender straight into the can of tomatoes and lightly blend until the tomatoes are chopped up. Just make sure the end of the immersion blender is all the way in the can, otherwise it will splatter everywhere.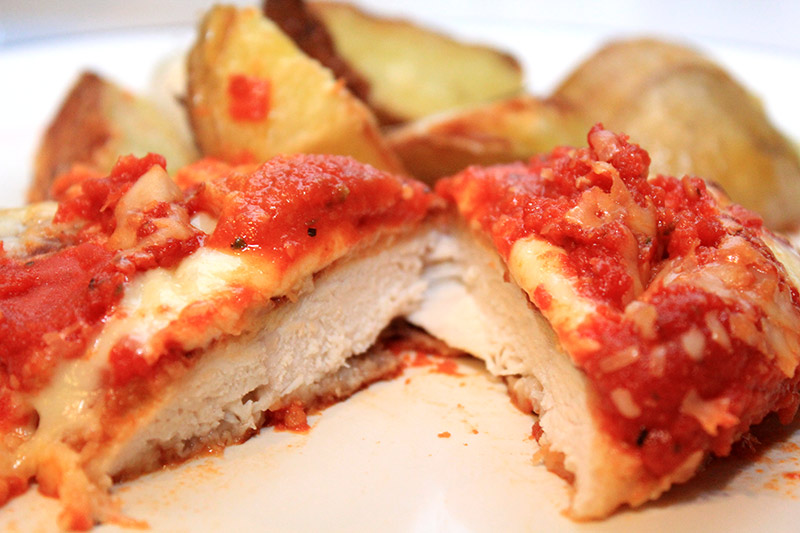 Recipe is from www.marthastewart.com.