Looking for another quick and easy chicken dinner? How about chicken piccata. Sounds fancy right? Well it's so easy to make and is a nice change up for your chicken dinner. I've made this chicken dish a few times and it always turns out great and comes together quickly. I served it with a salad but you could always do rice or pasta if you wanted to.
The recipe calls for wine to deglaze the pan. If you have some white wine open, or are willing to open a bottle and drink the rest then go for it. This does go perfectly with a nice glass of white wine though… just sayin'. If not you can always just substitute 1/4 cup of additional chicken broth.
Makes: 2 servings
Total Time: 20 minutes
Ingredients:
2 chicken breasts, butterflied and pounded thin
salt and pepper to taste
1 tbs olive oil
2 tbs butter, divided
1 clove garlic, chopped
1/4 cup dry white wine
1/2 cup chicken broth
1 lemon (half sliced up, the other half for juicing)
1 tsp honey
2 tbs capers
1 tbs parsley, chopped
Directions:
Butterfly the chicken breasts and pound thinly with a meat mallet, season with salt and pepper (Mine were on the smaller side to begin with so I just pounded them thinner and didn't bother butterflying them). Heat the olive oil and 1 tabespoon of butter in a medium skillet over medium-high heat. Cook the chicken until it's golden brown and cooked through, about 2-3 minutes per side. Set the chicken aside. I covered it with tinfoil so it would stay warm.
Add the garlic to the pan and saute until fragrant, about a minute. Add the wine to the pan and deglaze it, scraping up any browned bits.
Add the broth, lemon juice, honey, capers and lemon slices to the pan and simmer until the liquids have reduce by half, about 2-3 minutes.
Stir in the other tablespoon butter, season with salt and pepper to taste, mix in the parsley, return chicken to pan and toss to coat.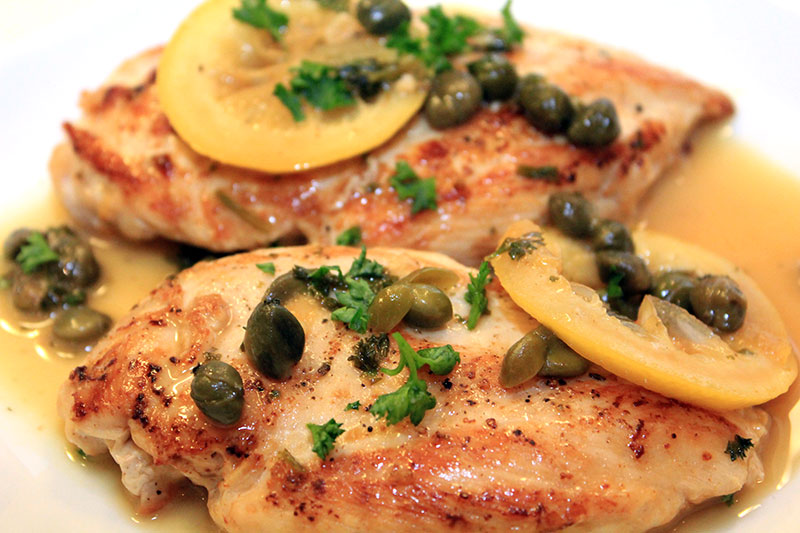 Recipe is from www.closetcooking.com.