Over the weekend it was my little brother's birthday, he turned 23 years old!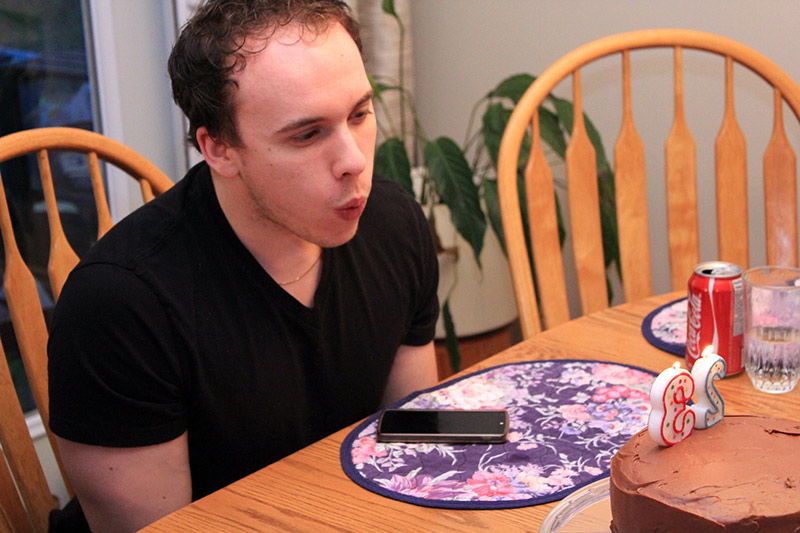 Whenever it's someone's birthday we always go to my parent's house for dinner. My contribution to the dinner this time was dessert, a delicious chocolate cake with chocolate frosting. I've made the cake part of this recipe many times because it's a delicious yet simple one bowl recipe.
This time was the first time I've made the chocolate frosting that goes with the cake. Now I really like frosting, but for me there is such a thing as frosting that is too sweet. This was not the case with this frosting. With the use of the bittersweet chocolate and the sour cream, the sweetness factor in this frosting was just right.
Make this cake for your next birthday celebration, you won't be disappointed!
Total Time: 1 hour 30 minutes
Makes: 1 8 inch double layer cake (serves 8-10)
Ingredients:
For the cake:
Unsalted butter, softened, for greasing the pans
3/4 cup unsweetened Dutch cocoa powder
1 1/2 cups all-purpose flour
1 1/2 cups sugar
1 1/2 tsp baking soda
3/4 tsp baking powder
3/4 tsp salt
2 large eggs
3/4 cup low-fat buttermilk
3/4 cup warm water
3 Tbs vegetable oil
1 tsp pure vanilla extract
For the frosting:
2 1/4 cups powdered sugar
1/4 cup unsweetened cocoa powder
Pinch of salt
6 ounces cream cheese, room temperature
1 1/2 sticks unsalted butter, softened
9 ounces bittersweet chocolate, melted and cooled slightly
3/4 cup sour cream
(Makes 4 cups of frosting, it was more than enough for this cake)
Directions:
For the cake:
Preheat oven to 350 degrees F. Line two 8 inch cake pans with parchment paper and butter the edges.
Sift cocoa, flour, sugar, baking soda, baking powder, and salt into the bowl of a mixer. Beat on low speed until just combined. Raise speed to medium, add eggs, buttermilk, water, oil, and vanilla. Beat until smooth, about 3 minutes. (If you don't have a stand mixer you can use a handheld mixer, or just mix it by hand)
Divide batter between pans*. Bake for about 35 minutes, until the cakes are set and a toothpick inserted into the centers comes out clean. Turn out from pans. Transfer, faceup, to wire racks. Let cool completely.
Prepare the frosting below. Spread 2 cups chocolate frosting onto top of 1 cooled layer. Top with remaining layer; frost top and sides with remaining 2 cups frosting.
*I really like the cakes to be equally sized and I have a hard time judging whether they're the same, just looking at how much batter I've poured in. So, as a little trick, I've started weighing them with my digital scale. Then I can make sure they're exactly the same.
For the frosting:
Sift together sugar, cocoa, and salt.
Beat cream cheese and butter with a mixer on medium-high speed until smooth. Reduce speed to medium-low; gradually add sugar-cocoa mixture, and beat until combined. Pour in chocolate in a slow, steady stream. Add sour cream; beat until combined.
Frost your cake!!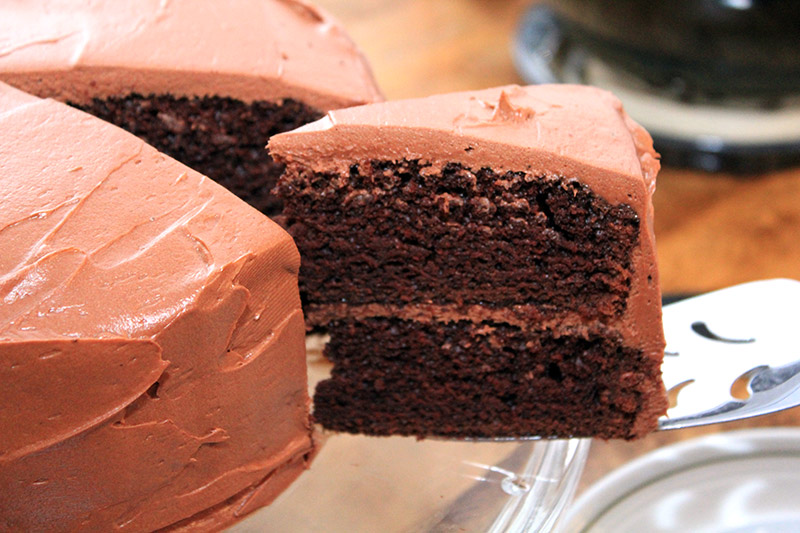 You really can't go wrong with a recipe from Martha Stewart, www.marthastewart.com. The only change I made was using vegetable oil because I didn't have safflower oil. Thanks Martha! I will be making this cake again and again!