Ok. You need to make this chocolate mousse. Like really need to make this. This is the simplest thing to make and yet it's so decadent and delicious. It's rich and creamy, light and full of chocolately flavour. I made this last weekend, and as my husband described it, "it tastes like chocolate air".
If you make this, I guarantee you won't regret it. Well you might regret eating a full glass of it two days in a row, but then you'll just justify it by promising to workout extra hard the next day like I did.
A huge perk to this recipe is that it can easily be made ahead of time. You could definitely make it the day before a dinner party, if you can leave it in the fridge that long without digging in.
Total Time: 30 minutes, plus chilling time
Servings: 4
Ingredients:
2 tbs unsweetened cocoa powder
5 tbs hot water
7 oz semi-sweet chocolate
2 cups heavy whipping cream (11/2 for the mousse and 1/2 for topping it later)
7 tsp sugar (5 for the mousse and 2 for the whip cream topping)
pinch of salt
1/4 tsp vanilla
Directions:
In a small bowl, mix together cocoa powder and hot water. Set aside to cool slightly.
Melt the chocolate in the microwave or in a double boiler. Cool 3-5 minutes.
Using an electric mixer, whip 1 1/2 cups of the cream, 5 tsp of the sugar and a pinch of salt in a large mixing bowl until it's thickened and soft peaks form. This should only take a couple of minutes.
If you melted your chocolate in small bowl then transfer it to a large mixing bowl. Add the cocoa powder mixture to the melted chocolate and whisk until smooth. At first it may look like your chocolate is seizing up, but just keep whisking and it will become smooth.
Using a spatula, fold in 1/3 of the whipped cream into the chocolate mixture to lighten it up. Then very gently fold in the rest of the whipped cream until no streaks remain. Take your time to really do this gently, this will keep your mousse light and airy.
Spoon the mousse into glasses, cover with plastic wrap and refrigerate at least 3 hours or for up to two days.
When you're ready to serve you can prepare the remaining whipped cream. Combine the remaining 1/2 cup of whipping cream with the remaining 2 tsp of sugar and the vanilla. Whip with an electric mixer until soft peaks form. Divide between the four servings of mousse and garnish with chocolate shavings.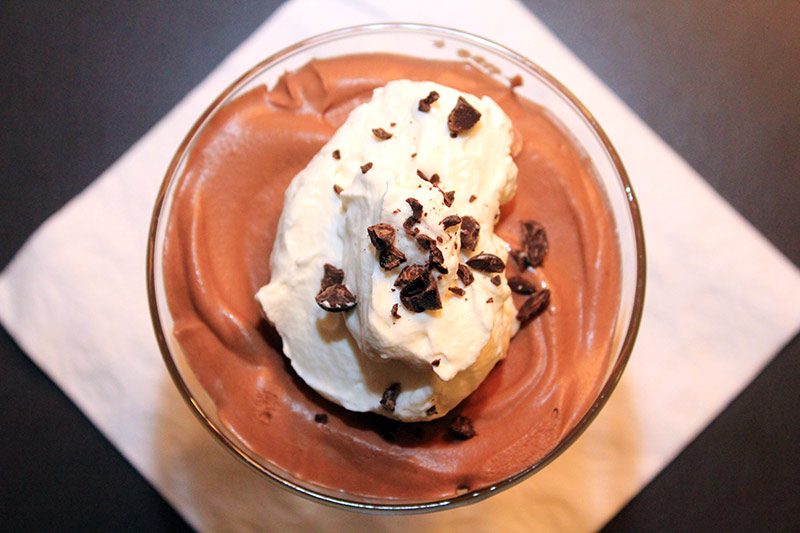 Recipe is from www.crunchycreamysweet.com. I doubled it to make 4 servings.