If you're looking for something a little different make, how about trying some homemade chorizo and black bean empanadas. They are a little bit time consuming to make, but in the end, the time was well worth it.
These bite sized savoury treats are made with a flaky buttery crust filled with spicy chorizo, black beans and sweet corn. They were a bit tricky to assemble, in that you can't put very much filling for the size you're cutting them out at otherwise they're hard to seal, but they turned out great.
In the end I did have a fair bit of the filling left over, but I later found out that leftover filling was great in my scrambled eggs the next morning. I think it would also be amazing on nachos.
Total Time: 2 hours (including chilling time for the dough)
Makes: about 35 empanadas
Ingredients:
For the dough:
2 cups all-purpose flour
1/2 tsp  salt
2/3 cup cold unsalted butter, cubed
2 egg yolks (one for the dough, one for the egg wash)
1/2 cup ice water (approx)
For the filling:
2 tbsp olive oil
8 oz raw chorizo sausages, casings removed
1 cup finely chopped onion
2 cloves garlic, minced
1 tsp ground cumin
1/2 tsp dried oregano
1/4 tsp salt
1/4 tsp ground cloves
1/2 cup canned black beans, drained and rinsed
1/2 cup frozen corn kernels, thawed
2 tbsp tomato paste
1/4 cup chopped fresh cilantro
Directions:
For the dough:
In bowl, whisk flour with salt. Using pastry blender, cut in butter until in fine crumbs with a few larger pieces. Whisk 1 of the egg yolks with the water; drizzle over dry ingredients, stirring briskly with fork and adding up to 2 tbsp more water if necessary to form ragged dough. Press into disc. Wrap in plastic wrap and refrigerate until chilled, about 1 hour.
For the filling:
In nonstick skillet, heat oil over medium heat; cook chorizo, breaking up with back of wooden spoon, until no longer pink, about 6 minutes. Using slotted spoon, transfer to small bowl.
In same skillet, cook onion, garlic, cumin, oregano, salt and cloves over medium heat until softened, about 5 minutes.
Add beans, corn, tomato paste and chorizo; cook, stirring, until heated through, about 4 minutes. Remove from heat; stir in cilantro.
Assembling the empanadas:
Preheat oven to 400 degrees F.
Divide pastry in half. On lightly floured surface, roll out each half to 1/8-inch thickness. Using 3-inch round cutter, cut out circles, re-rolling scraps to cut out more circles.
Mix remaining egg yolk with 2 tbsp water; brush some over edge of each circle. Place scant 1 tbsp filling in centre; fold pastry over to make semicircle. Press edge with fork to seal. With tip of knife or fork, pierce top to make vent hole. Place, 1 inch apart, on parchment paper–lined baking sheets.
Brush egg wash over pastry. Bake about 20 minutes or until golden brown. Let cool on rack before serving.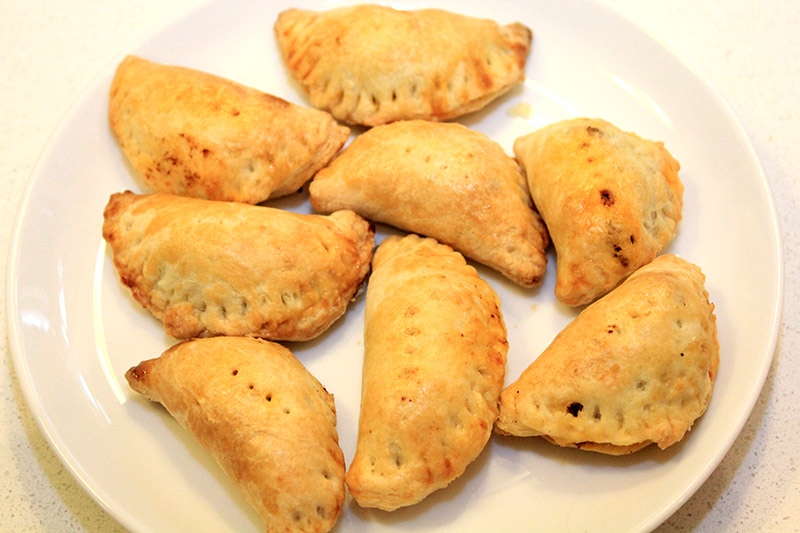 Recipe is from Canadian Living Magazine www.canadianliving.com.