While some people might do meatless Monday, I do chicken Monday, and chicken Tuesday, and chicken Wednesday… There are a lot of chicken dinners at our house so I'm always looking for a way to mix things up to make them more interesting. I came across this chicken skillet dinner and whipped it up for dinner last week. It was quick and easy to make and most importantly it has bacon in it!
I omitted the flour in this recipe to keep it paleo/grain-free so my sauce was basically just the broth mixed with the lemon rind. If you want a thicker sauce then you should add the flour as indicated in the original recipe. Otherwise next time you're staring at those plain chicken breasts wondering what to do with them tonight (like I always seem to be doing), give this recipe a try!
Total Time: 45 mins.
Servings: 4
Ingredients:
1 pound of asparagus trimmed
4 slices of bacon, cut up
4 boneless skinless chicken breasts (I cut them in half so they would cook faster)
salt and pepper
1 1/2 cups chicken broth
1/2 tsp grated lemon zest
diced green onions and lemon wedges to garnish
Directions
In a large saucepan cook the asparagus in boiling water for 3 minutes or until crisp tender. Drain the asparagus and put it in ice water to stop it from cooking further.
Heat a large skillet on medium-high heat. Season the chicken with salt and pepper and set aside. Cook the bacon in the skillet until it's crisp and cooked through. Remove the bacon and drain on paper towels. Remove all but 1 tablespoon of bacon drippings to cook the chicken.
Cook the chicken in the bacon drippings over medium-high heat until it's browned, about 12 minutes, turning once. Remove the chicken from the skillet, set aside and keep warm. Add the chicken broth and grated lemon zest to the skillet and scrape up any browned bits from the bottom of the skillet. Put the chicken and asparagus back to the skillet and continue cooking until the chicken is cooked through, about 5 more minutes.
Sprinkle with the cooked bacon, green onions and squeeze some lemon juice.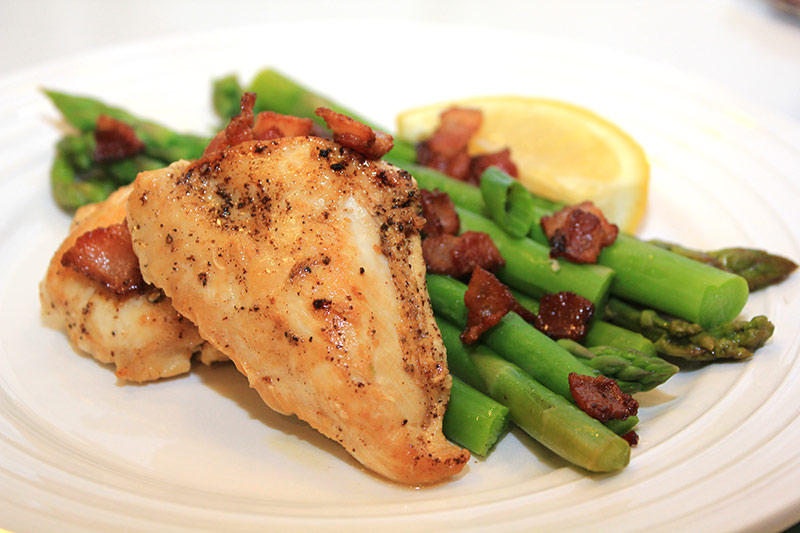 Recipe is a slightly adapted version of the Chicken, Bacon and Asparagus Skillet from Better Homes and Gardens.