I don't know about you but I hardly ever use my slow-cooker. It's one of those things that I really wanted, received as a wedding gift and now sits in the cupboard taking up a lot of space. So I wanted to look for more recipes where I could utilize the slow-cooker and I came across this one. The enchiladas themselves aren't made in the slow-cooker, but the filling is. It's so simple. It only takes about 10 minutes to prepare everything that goes in the slow-cooker, you don't even need to brown the meat. Then after it's cooked for about 5 hours you basically only need another 20 minutes of your time to shred the meat and throw the enchiladas together.
One thing to note, the recipe says to use one 9×13 inch dish. I could not fit all 10 enchiladas into one dish so I ended up putting a couple in a separate dish.
I served these up with some delicious Spanish rice, pico de gallo and sour cream. I will definitely be making this dish again and again.
Total Time: 6 hours (including slow-cooker time)
Servings: 4 (makes 10 enchiladas)
Ingredients:
900g stewing beef cubes
1 onion, diced
3 cloves garlic, minced
1 green pepper diced
1-1/2 cups sodium-reduced beef broth
1/2 cup strained canned diced tomatoes
1/4 cup tomato paste
1 tbs chili powder
2 tsp ground cumin
1 tsp dried oregano
pinch of cayenne pepper
1/2 tsp each salt and pepper
1/4 cup all-purpose flour
3 tbs cold water
3 tbs lime juice
10 small (7 inch) soft flour tortillas
1-1/2 cups shredded Monterey Jack cheese
2 green onions, chopped
1/4 cup fresh cilantro leaves
Directions:
In slow-cooker, combine beef, onion, green pepper, garlic, broth, strained tomatoes, tomato paste, chili powder, cumin, oregano, cayenne pepper, salt and pepper. Cover and cook on high until the beef is tender, about 5 hours.
Using slotted spoon, transfer beef to bowl and shred with a fork.
Meanwhile, whisk together flour, cold water and lime juice. Whisk the flour mixture into the liquid in slow cooker; cover and cook on high until slightly thickened, 15 minutes. Taste the sauce and add salt if necessary. Stir 2/3 cup of the sauce into the shredded beef.
Spread 2/3 cup of the sauce in 13 x 9 inch baking dish. Spoon heaping 1/3 cup of the beef mixture onto centre of each tortilla and roll them up. I find it helpful to microwave the tortillas for about 30 seconds so they're warm and more pliable. Arrange the tortillas, seam side down, in single layer in baking dish.
Pour remaining sauce over top. Sprinkle with cheese and green onions. Broil until cheese is melted, about 3 minutes. Garnish with cilantro.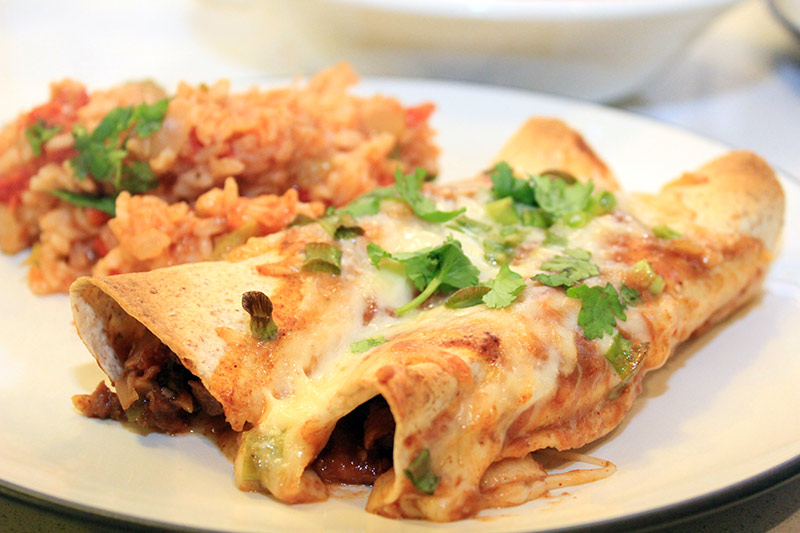 Recipe is from Canadian Living www.canadianliving.com. The only changes I made were cooking on high for 5 hours instead of low. And I didn't have a jalapeno pepper so I added a diced green pepper and some cayenne pepper.