It's Friday!! Happy Friday!!! Let's eat brownies!
For the last 60 days, James, myself and some of our friends and gym buddies have been participating in what was called the Bfit Challenge. The idea being to track various aspects of health and wellness using a points system for 60 days to improve our health and fitness and become more aware of our daily habits. Points were awarded for drinking enough water daily, getting at least 8 hours of sleep, working out, taking time to practice mobility and of course nutrition.
When it came to nutrition the goal was to eat Whole30 for 60 days straight. There is so much to it, but put very simply the idea is to eat meat, fish and eggs, vegetables, fruits and some nuts and seeds. No dairy, wheat, grains of any type, legumes, sugar or alcohol. Now it's no secret I love cooking and baking and eating so I knew I would never go 60 days straight not eating any of those things. As a compromise, James and I decided we would do our very best to adhere to the nutrition guidelines Monday-Friday then mostly cook or eat what we wanted on the weekends.
The thing that was the most important for me was making a point of being aware of what I'm putting in my body, taking the time to get enough of sleep, drink enough water and in general just take better care of my body. Everyone worked so hard at it and gave a great effort! I admire everyone's commitment and perseverance.
Time for a celebratory brownie!
Total Time: 1 hour
Servings: 35 brownies (or less if you make them bigger)
Ingredients:
1 cup (2 sticks) unsalted butter
2 1/4 cups sugar
1 1/4 cups Dutch-process cocoa
1 tsp baking powder
1 tsp salt
1 tsp espresso powder
1 tbs vanilla extract
4 large eggs
1 1/2 cups all purpose flour
2 cups chocolate chips
Directions:
Preheat the oven to 350 degrees F. Grease a 9″ x 13″ pan and set aside. I lined my pan with parchment paper so it hung over the edges lengthwise and sprayed a bit of cooking spray on the short edges. It lifted out of the pan easily for cutting.
In a medium-sized microwave-safe bowl, or in a saucepan set over low heat, melt the butter, then add the sugar and stir to combine. Return the mixture to the heat (or microwave) briefly, just until it's hot (about 110°F to 120°F), but not bubbling; it'll become shiny looking as you stir it. Heating this mixture a second time will dissolve more of the sugar, which will yield a shiny top crust on your brownies.
Transfer the sugar mixture to a medium-sized mixing bowl, if you've heated it in a saucepan. Stir in the cocoa, baking powder, salt, espresso powder, and vanilla.
Whisk in the eggs, stirring until smooth. Add the flour and chocolate chips. Stir until smooth. Spoon the batter into prepared pan.
Bake the brownies for about 30 minutes, until a toothpick inserted into the center comes out clean, or with just a few moist crumbs clinging to it. The brownies should feel set on the edges, and the center should look very moist, but not uncooked. Remove them from the oven and cool on a rack before cutting and serving.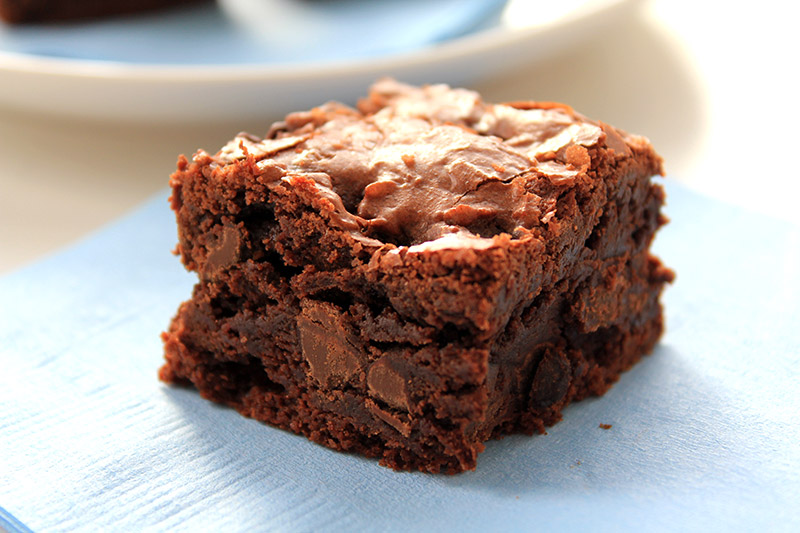 Recipe is from Two Peas and Their Pod and originally from King Arthur Flour.