With every sunny day day I feel like summer is getting closer and closer. We've been spending a lot of  time working on our plot in the community garden, planting flowers on our rooftop patio and getting our fresh herb patio boxes ready. I can't wait to grow my own vegetables this year and make delicious dinners to be eaten on the patio. Warmer days also mean grilling and lighter foods. This fresh, light and delicious grilled honey orange chicken salad is just that.
I love these types of meals because James does the grilling while I make the other stuff, then we have dinner on the table in no time! Plus you marinate the chicken in advance so all you really need to do is toss the salad together and grill the chicken. You could also make the salad dressing in advance if you wanted to.
The fresh oranges add a lot to this salad. I make a lot of salads with fruit and I've never used oranges, but I'm glad I gave this one a try and will definitely be making it again this summer.
Total Time: 30 minutes (plus marinating time)
Servings: 4
Ingredients:
For the chicken:
4 boneless skinless chicken breasts
2 tsp shredded orange peel
1/3 cup orange juice
4 cloves garlic minced
2 tbs honey
1 1/2 tsp dried thyme
salt and pepper just before grilling
For the dressing:
2 tbs olive oil

2 tbs white wine vinegar
2 tbs orange juice
1 tsp honey
1 tsp dijon mustard
2 cloves garlic minced
1 1/2 tsp finely chopped shallot
1/4 tsp salt
1/8 tsp pepper
For the salad:
4 cups baby salad greens
1 medium red pepper thinly sliced
2 medium oranges peeled and sectioned
sliced almonds
Directions:
To marinate the chicken, place it in a resealable plastic bag set in a shallow dish. Add the orange peel, the 1/3 cup orange juice, the 4 cloves garlic, honey, and thyme to the bag.
Seal and place in the refrigerator for 6-8 hours, turning the bag occasionally.
To grill the chicken, heat the grill to medium-high heat. Remove the chicken from the marinade, place on a plate and season with salt and pepper.
Place the chicken on the grill and lower to medium heat. Cover and cook for 5-6 mins per side or until the internal temperature reaches 165 degrees F on a meat thermometer.
Be careful when you're grilling the chicken as the sugars in the orange juice and honey can be prone to burning. If it seems like it's getting too browned just turn down the heat and cook them a bit longer at lower heat.
For the dressing, in a screw-top jar combine olive oil, vinegar, the 2 tablespoons orange juice, the 2 cloves garlic, shallots, honey, dijon mustard and salt and pepper. Cover and shake well.
Divide the salad greens, sliced red peppers and orange slices among 4 plates. Slice the chicken, arrange on the salad and drizzle with dressing. Sprinkle with the sliced almonds.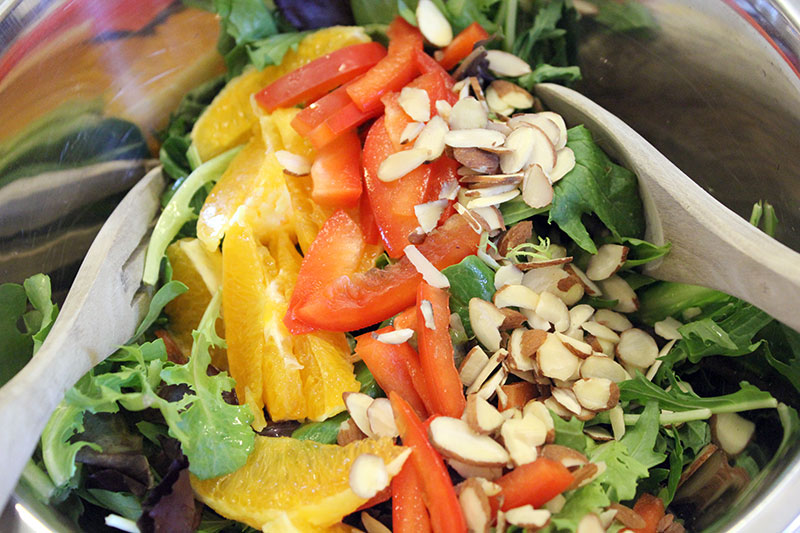 Recipe is from Better Homes and Gardens, www.bhg.com. I like the creaminess that dijon adds to a salad dressing so I included a teaspoon of dijon mustard, as well as a teaspoon of honey for some sweetness. Those were the only changes I made.