Do you like seafood? I love seafood, but I have to say it's something I don't prepare at home often. I think I've cooked more seafood (salmon, mussels, clams) this summer than I have ever. If you're looking for a delicious seafood recipe that is simple to make, but still looks impressive for guests, then you have to make these grilled seafood packets.
How fun is it to pile everything onto foil, toss it onto the bbq and 20 minutes later you have a healthy and flavourful seafood dinner? We polished off these yummy seafood packets with some chilled white wine and crusty bread to soak up the amazing juices.
As much as I hate to say this, I can tell that summer is starting to wind down, so if there' s one more bbq recipe to try this summer, let it be this!
Total Time: 35 minutes
Servings: 2
Ingredients:
dozen fresh clams
dozen large prawns, peeled and de-veined
2 chorizo sausages, casings removed and crumbled up
dozen cherry tomatoes
2 ears of corn cut in thirds
2 cloves of garlic minced
2 tbs butter
handful of fresh herbs minced – I used basil and parsley, but you can use whatever you have on hand that you like
half of a lemon
salt to season
crusty bread
Directions:
Preheat the grill on high heat. While the grill is heating you can prepare the packets. Divide the clams, prawns, chorizo sausage, corn and cherry tomatoes evenly between two pieces of heavy duty foil.
Top each packet with 1 tbs of butter and half of the minced fresh herbs. Squeeze the juice of the lemon onto each packet, grate some of the zest onto the packet and season with salt.
Seal the packets by rolling and pinching the edges of the foil together, but make sure to leave some space in there for any steam that will build up.
Reduce the heat on the grill to medium and grill the packets, covered, for 15-20 minutes, or until the clams are open and the prawns and chorizo are cooked through. Be sure to check them at the earlier time so the seafood doesn't get overcooked. Discard any clams that didn't open.
Serve with crusty bread to soak up all the delicious juices in the packet.
*Feel free to use more seafood if you're feeling like 6 clams and 6 prawns each isn't enough. It will still cook the same as long as you can get it sealed in the foil.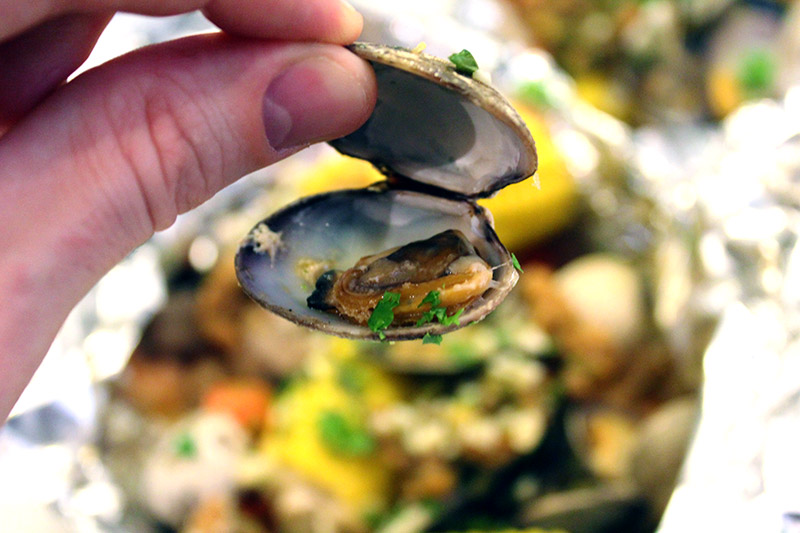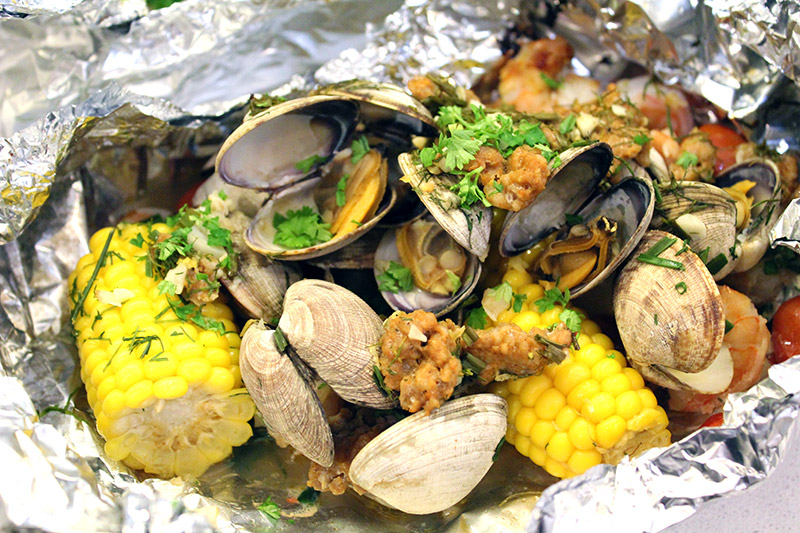 Recipe is slightly adapted from www.hostthetoast.com.