I don't know about you but when it comes to weeknight cooking I definitely get bored of having the same steamed veggies night after night. I'm always on the lookout for ways to mix things up while still keeping it quick and easy. This herb chopped veggie side dish was just that. It took only 10 minutes to make and was wonderfully light and full of fresh herb flavour.
I used the butter in this recipe, but you could just as easily substitute a drizzle of olive oil if you don't want butter or want to make this dish strictly paleo.
Total Time: 10 minutes
Servings: 4 side dish servings
Ingredients:
8 ounces green beans trimmed and cut into 1 inch pieces
8 ounces asparagus trimmed and cut into 1 inch pieces
1/4 cup chopped walnuts
2 tbs butter
2 tbs chopped fresh mint
1 tbs chopped fresh cilantro
salt and pepper
Directions:
In a large saucepan cook green beans and asparagus in lightly salted boiling water for 2 minutes (until just tender); drain.
While the veggies are cooking, combine walnuts, butter, mint, and cilantro in a large serving bowl.
Add green beans and asparagus; toss to coat.
Season to taste with salt and pepper.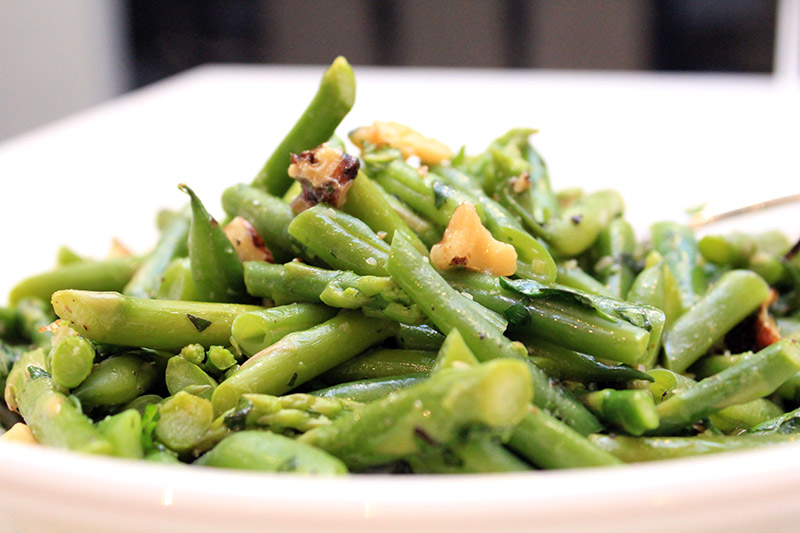 Recipe is from Better Homes and Gardens www.bhg.com.