Yesterday I posted the recipe for my favourite homemade chili. And what goes perfectly with chili? Biscuits, rolls, crusty bread…. While I do enjoy all of those of those things I wanted to try something new. I happened across a recipe for Paleo Dinner Rolls. These are grain-free, dairy-free rolls that take less than 10 minutes to prepare and 35 minutes to bake.
I'm always skeptical when it comes to paleo-fying baked goods because it's just never the same. And then James gives me this squinty eyed look and I know he's thinking whatever paleo version of something I'm making is going to be gross. BUT, these actually ended up being really good and we've already made them twice. I always crave bread when I have soups or stews so these ended up being a nice treat. Needless to say all 10 tiny rolls were consumed in one sitting between the two of us. I think next time I will double up the recipe in hopes of having leftovers for making mini sandwiches or sliders.
A couple of things to note are that they don't rise and they don't really get any bigger than they are when you put them on the baking sheet (they're more like slider size). They do end up crunchy and firm on the outside while staying soft and chewy on the inside.
Total Time: 45 minutes
Makes: 10 small rolls
Ingredients:
1 cup tapioca flour (starch)
1/4 – 1/3 cup coconut flour
1 tsp sea salt
1/2 cup warm water
1/2 cup olive oil
1 large egg, whisked
Directions:
Preheat oven to 350 degrees F.
Combine the tapioca flour with the salt and 1/4 cup of the coconut flour in a medium bowl. Stir to combine.
Pour in oil and warm water and stir. Add the whisked egg and continue mixing until well combined.
If the mixture is too thin you should add one or two more tablespoons of coconut flour – one tablespoon at a time – until the mixture is a soft but somewhat sticky dough.
Use a large spoon to scoop out about two tablespoons of the dough and roll into balls. You will be making about 10 rolls. Use extra tapioca flour in the palms of your hands so the dough does not stick.
Place each roll of dough onto a parchment covered baking sheet or on a greased baking sheet. Bake for 35 minutes.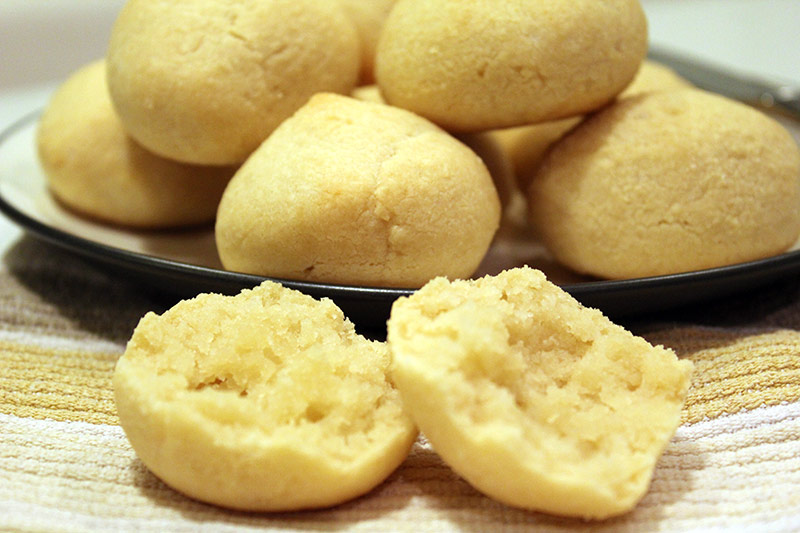 Recipe is from www.paleospirit.com.