This past weekend I hosted Mother's Day brunch at my house with my parents and my siblings. We made delicious buttermilk pancakes (which I will post later this week) and this very yummy potato crusted quiche. It was loaded with flavour from the chorizo sausage, cheddar cheese, veggies and hashbrown like crust.
I do have to say though, it was a bit tricky to make. To make the potato crust you're basically making a giant potato pancake that you somehow have to remove from the pan and flip to cook the other side. I ended up inverting it onto a plate, then using another plate to flip it again so the uncooked side was on the top then flipping that back into the pan. It was a lot of flipping for a giant potato pancake. But if it's not perfect it doesn't really matter, you just want to get the outside as browned as possible to keep it crunchy all while cooking the potatoes so they're soft.
So if you have the time to spend making this it is definitely worth it because it was so good. Even the leftovers for breakfast the next day were delicious.
Total Time: 1hr 45 mins (including baking time)
Servings: 8 slices
Ingredients:
1 3/4 lbs russet potatoes
1/2 tsp salt
1/8 tsp pepper
1 tbs olive oil
1 tbs butter
3 chorizo sausages (casings removed)
1 1/4 cup coarsely chopped zucchini
1/2 cup chopped red onion
4 eggs
1 cup half and half
1/4 tsp crushed red pepper
1 cup shredded cheddar cheese
1 tbs flour
Directions:
Preheat oven to 325 degrees F. Peel and coarsely shred potatoes. Place potatoes in a large bowl; add enough water to cover potatoes. Stir well. Drain in a colander set over the sink. Repeat rinsing and draining two or three times until water runs clear. Drain again, pressing out as much water as you can with a rubber spatula. Lay the shredded potatoes on a clean towel and press with another clean towel to get as much water out of them as possible. You could also use a salad spinner to dry the potato.
Transfer potatoes to a large bowl. Sprinkle potatoes with 1/4 teaspoon of the salt and the black pepper, tossing to combine.
In a 12-inch nonstick skillet heat 1 tablespoon of the oil and the butter over medium-high heat until butter foams. Add potatoes to the skillet, spreading into an even layer. Gently press with the back of a spatula to form a cake. Reduce heat to medium. Cook, without stirring, about 12 minutes or until the bottom is golden brown and crisp.
While the potatoes are cooking you can prepare the filling. In a medium skillet, cook the chorizo until lightly browned and cooked through, about 5 minutes. Remove the chorizo to drain on paper towel and discard all but 1 tablespoon of the drippings. Cook zucchini and onion in the reserved drippings over medium heat for 3 to 5 minutes or until tender but not brown. Chop up the chorizo into smaller pieces.
In a large bowl combine eggs, half-and-half, the remaining 1/4 teaspoon salt, and the crushed red pepper. Stir in chorizo and zucchini mixture. In a small bowl combine shredded cheese and flour. Add to egg mixture; mix well.
Once the potatoes have cooked for 12 minutes on one side, place a baking sheet or cutting board over the top of the skillet. Carefully invert the skillet to transfer the potatoes to the baking sheet. If needed, add the remaining 1 tablespoon oil to the skillet. Using the baking sheet, slide the potatoes back into the skillet, uncooked side down. Cook about 8 minutes more or until the bottom is golden brown.
Lightly grease a 9-inch pie plate. Transfer hash browns to pie pan, pressing hash browns into the bottom and up the sides of the pie pan, kind of like a crust.
Pour egg mixture into the hash-brown lined pie pan. Bake for 50 to 55 minutes or until a knife inserted near the center comes out clean. Let stand for 10 minutes before serving.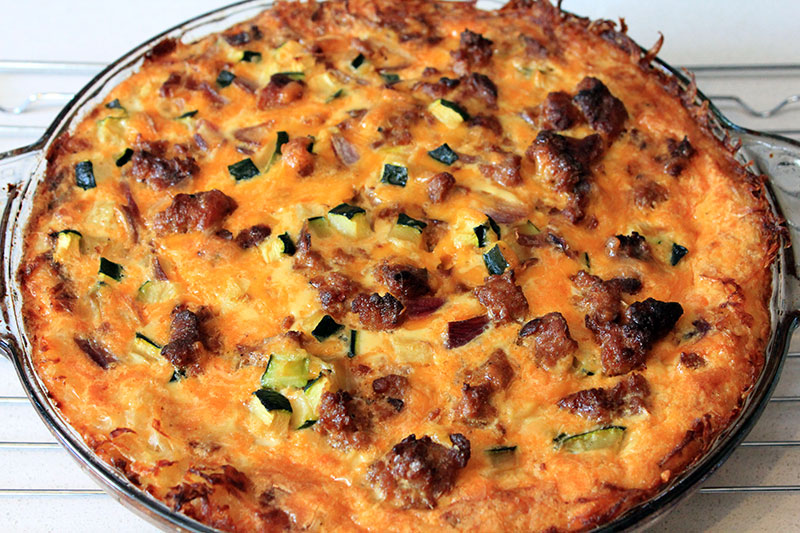 This original recipe is from www.bhg.com, however I did make a couple of changes.