I can't believe how long it's been since I posted a recipe. I guess I've just been having so much fun enjoying summer that I haven't been wanting to sit in front of my computer. But now that my holidays are officially over, it's time to get back to work, if cooking delicious food and writing about it is work….
This recipe for red velvet cupcakes with cream cheese frosting was actually made quite a while ago for a friend's birthday and they were amazing! I love red velvet, or maybe I just love cream cheese frosting and red velvet always has cream cheese frosting. Either way I love these cupcakes and there were none leftover so I'll take that as a sign they must have been tasty.
Ingredients:
For the cupcakes:
2 1/2 cups cake flour
2 tbs cocoa powder
1 tsp salt
1 1/2 cups sugar
1 1/2 cups vegetable oil
2 large eggs
1 tsp red gel food colouring
1 tsp vanilla extract
1 cup buttermilk
1 1/2 tsp baking soda
2 tsp white vinegar
For the cream cheese frosting:
1 cup unsalted butter at room temperature
12 ounces cream cheese at room temperature
4 cups powdered sugar sifted
3/4 tsp vanilla extract
Directions:
For the cupcakes:
Preheat your oven to 350 degrees F. Line 2 dozen muffin cups with paper liners.
Whisk together the cake flour, cocoa powder and salt, set aside.
In a large bowl, beat the sugar and vegetable oil with an electric mixer on medium-high speed. Once it's combined, add the eggs, one at a time, beating until each is incorporated into the mixture. Add the food colouring and vanilla extract and beat to combine.
Reduce the mixer speed to low and add the flour mixture in three batches, alternating with two additions of the buttermilk. Mix to combine after each addition.
Stir together the baking soda and vinegar, add it to the mixture and beat until just combined.
Divide the batter evenly between the muffin cups, they should be about 3/4 full. Bake, rotating them half way, for 20 minutes, or until a toothpick inserted into the center comes out clean. Allow to cool completely then remove them from the muffin tins.
For the cream cheese frosting:
Beat the butter and cream cheese with an electric mixer on medium-high speed for 2-3 minutes, or until it's light and fluffy. Reduce the speed to low and add the powdered sugar one cup a time, mixing in between additions. Add the vanilla extract and mix to combine.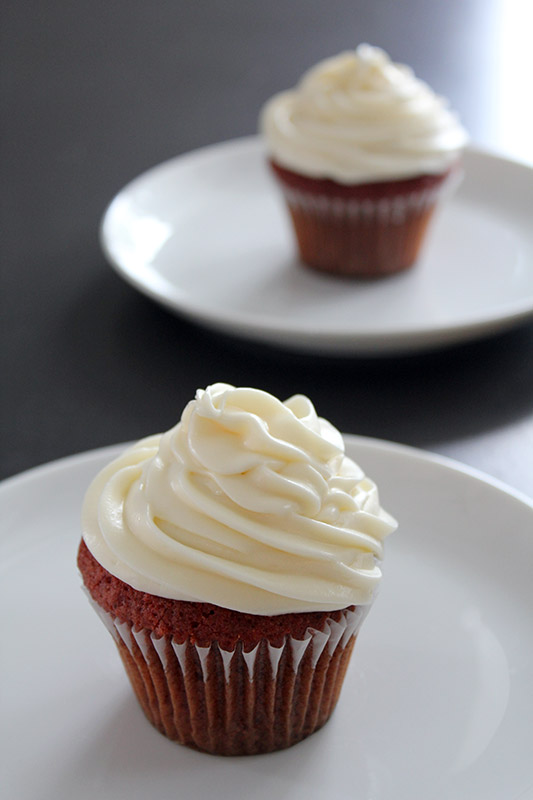 This yummy recipe is by Martha Stewart www.marthastewart.com.