I have made this recipe for roasted red pepper crostini so many times I can't even count. It's one of the top requests  I get from my husband when I ask him for appy suggestions. It's so simple to make and it's always delicious.
This recipe is also very flexible. I will make this amount usually for just James and I to eat, but if you're making it for four people it's easily doubled and you can just use the entire baguette instead of half. Or if you like more goat cheese, use more goat cheese, if you like more basil, feel free to add more.
If you're looking for quick and delicious appetizer to make, give this one a go and I'm sure it will end up in your regular rotation.
Ingredients:
1 red pepper
1/4 cup fresh basil thinly sliced
2 tbs olive oil (plus more to drizzle on the bread slices)
salt to taste
3 oz herbed goat cheese
1/2 baguette
Directions:
Put your oven to the broil setting and move a rack to the highest position. Slice your pepper in half and remove the seeds. Place it cut side down on a foil lined baking sheet and put it in the oven. Broil the pepper until the skin turns black and crispy, this takes about 5 minutes but you should keep an eye on it so it doesn't burn completely.
Once the skin appears to be mostly blacked, remove the pepper from the oven, place it in a glass bowl and cover the bowl with plastic wrap; allow to cool to room temperature.
Once the pepper has cooled, remove all the skin and thinly slice the roasted pepper. Place in a bowl with the basil, olive oil and season with salt to taste. Refrigerate for an hour to allow the flavours to blend.
While the peppers are refrigerated, take the goat cheese out of the fridge, it's much easier to spread onto the baguette if it's had a chance to warm up a bit.
When you're ready to serve the crostinis, place your oven rack back to the normal position and pre heat the oven to 400 degrees F. Thinly slice the baguette (about 1/2 inch slices), place them on a cookie sheet (lined with foil if you like for easy clean-up), drizzle lightly with olive oil and season with salt. Bake in the oven until the bread is warmed and slightly toasted, about 5 minutes.
Once they're out of the oven, spread the goat cheese on them and top with the roasted red peppers. Enjoy!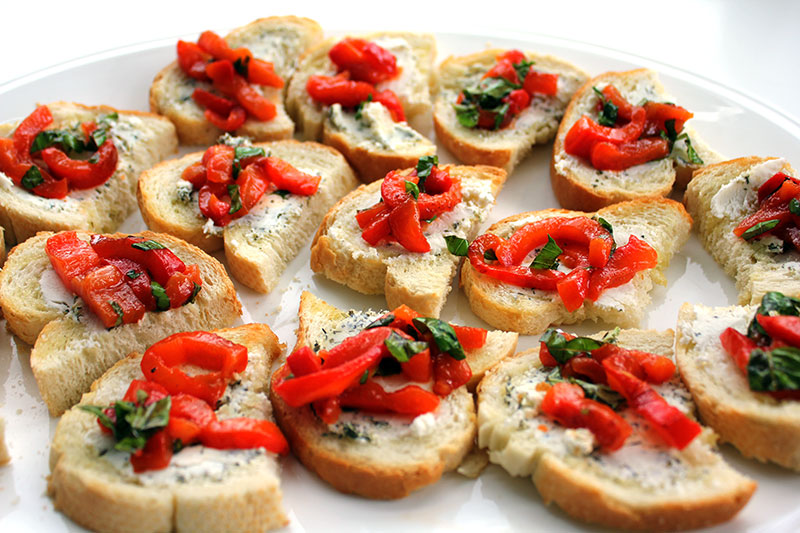 Recipe is originally from www.annies-eats.com, although I don't do it exactly the same anymore.