Last weekend we went to an Oscar viewing party. We played a fun little game where we all put in $10 and guessed the winners for each category. Needless to say I ended up losing my $10 as Gravity kept winning more and more categories that I didn't pick them for, but it was still lots of fun and we all enjoyed lots of delicious food.
I brought this yummy smoked salmon dip with crackers to share with the party. This recipe is so easy to make, it only takes about 10 minutes. Then when you tell people it only took you 10 minutes they'll all be super impressed with your skills in the kitchen. No one needs to know all you did was put everything in the food processor and give it a whirl for 20 seconds.
Total Time: 10 minutes
Makes: 1 1/3 cup
Ingredients:
1/4 cup mayonnaise
4 ounces cream cheese
1 tbs capers, rinsed and drained
1 tbs finely diced red onion
1-2 tsp lemon juice
1/2 tsp prepared horseradish
4 ounces smoked salmon divided in 2
1 tablespoon chopped parsley
Directions:
In a food processor, combine mayonnaise, cream cheese, capers, red onion, lemon juice, horseradish, and 2 ounces smoked salmon. Process until smooth, about 20 seconds.
Transfer to a small bowl and stir in remaining 2 ounces smoked salmon and chopped parsley.
Top with fresh parsley and serve with crackers.
*Make sure to check the fish for bones. Most smoked salmon shouldn't have any bones in it but I still found a couple of small ones in mine.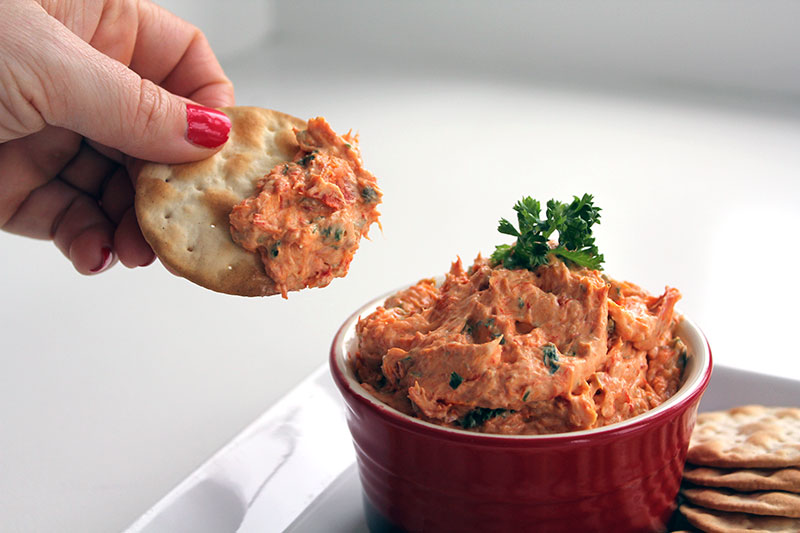 Recipe is from www.marthastewart.com Everyday Food, May 2010.