These rolls are probably some of the best I've ever had, and definitely the best I've ever made. These potato rolls turned out soft, tender and buttery. They would be delicious with almost any meal, warmed up with a little bit of butter, or maybe with some jam and a cup of tea, or as little sandwich buns, pretty much anything. I used them making pulled pork sliders and it couldn't have turned out better. This is now my go-to recipe for dinner rolls.
Because the recipe made so many rolls I actually only baked half of them and froze the remaining dough after the first rise. I'll update this once I bake the second batch to see how they turned out using the frozen dough.
Makes: 30-35 rolls
Total Time: 3 1/2 hours
Ingredients
1 cup mashed potatoes (I used two russet potatoes which was more than enough)
1/2 cup lukewarm reserved potato water with 1 tsp sugar added to it
1 packet dry active yeast
2/3 cup unsalted butter at room temperature
1/3 cup granulated sugar
2 tablespoons honey
1 teaspoon salt
2 eggs
1 cup warm milk
5 to 6 cups flour
Directions
Boil the potatoes until tender. Reserve 1/2 cup of potato water then drain the potatoes. Add 1 tsp sugar to the potato water. Lightly mash the potatoes and measure 1 cup and allow to cool.
Add the yeast to the potato water and allow 5 minutes for it to dissolve.
In the bowl of a stand mixer with the paddle attachment, blend the potatoes, butter, sugar, honey, salt and eggs.  Mix on medium speed until combine, about 2 minutes.
Add the yeast and potato water mixture to the warm milk. Slowly add the liquid to the mixer and mix on low speed until combined.
Gradually add the flour until a soft dough forms, then switch to the dough hook and knead on low speed for 5 minutes. I originally added 5 cups of flour with the paddle and ended up adding another half cup of flour because the dough was still sticking to the sides of the bowl while it was kneading.
Lightly oil a large bowl with cooking spray or olive oil. Place the dough in the bowl, cover and allow to rise until double in size (about 90 minutes).
Punch down the dough, split it to shape into approximately 30-35 rolls and place them on a parchment lined baking sheet 1 1/2 inches apart. I split the dough in half and made 15 rolls out of each half as that fit well on the baking sheet.
Sprinkle the rolls lightly with flour, cover and allow to rise once again (about an hour).
Bake in an oven preheated to 400 degrees for 12 minutes.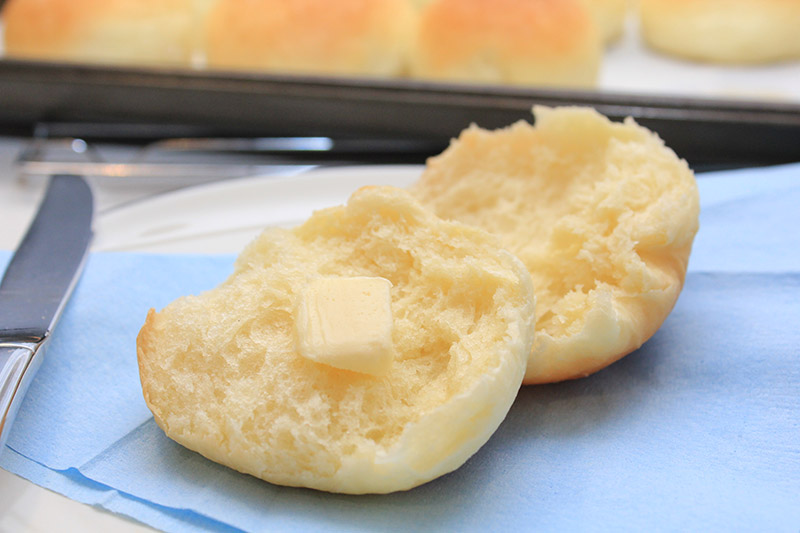 Recipe sourced from The Boastful Baker.