A few summers ago James and I traveled to Greece. It was an amazing trip, probably my favourite of any that we've done. The people were friendly, the scenery was beautiful and most importantly the food was amazing. Ever since that trip I've loved Mediterranean food; it's always so fresh, vibrant and delicious.
I particularly love spanakopitas. I order that as an appetizer almost every single time we go out for Greek food. Then once in a while I make them at home. They are sooooo good and they're really not that complicated to make. Follow the directions below and make these at home. Trust me you won't be disappointed, until they're all gone. Serve them with tzatziki.
Total Time: 1 1/2 hours
Makes: about 20 spanakopitas
Ingredients:
3 bunches of fresh spinach
1 onion diced
6-8 green onions diced
4 oz ricotta cheese
5 oz feta cheese
1/3 cup parmesan cheese
1 tbs fresh dill minced
1/2 cup fresh parsley chopped
a pinch of nutmeg
15 sheets of phyllo pastry thawed
4-5 tablespoons butter melted
salt to taste if required
Directions:
For the filling:
Trim the stems of spinach and wash them well in cold water. Place in a large pot with water. Heat to a boil and cook for 5-8 minutes until spinach is fully wilted.
While the spinach is cooking, heat 1 tsp of olive oil in a skillet on medium heat and saute the onion until tender, about 5 minutes. Add the spring onions and cook for another 2-3 minutes. Once the spinach is cooked, drain it and squeeze out the excess water from the spinach. Spinach can hold onto a lot of water and you don't want your filling to be soggy.
Remove the onion mixture from heat and then combine it in a mixing bowl with the cheeses, herbs and nutmeg. Roughly chop the cooked spinach and add it to the cheese mixture. Taste the filling before seasoning with salt because the feta cheese is pretty salty.
To assemble the spanakopitas:
1. Preheat the oven to 350 degrees F and melt the butter in the microwave. Work with 3 sheets of phyllo at a time and keep the rest covered so it doesn't dry out. Lay one sheet of phyllo onto a large cutting board and brush lightly with the melted butter. Layer on the other two sheets of phyllo brushing with butter each time.
2. Cut the layered phyllo into 4 strips lengthwise.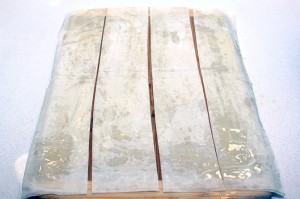 3. Spoon a little filling on an angle at the end of the each strip. I used a pretty generous tablespoon full of filling (an actual tablespoon, not a measuring spoon tablespoon).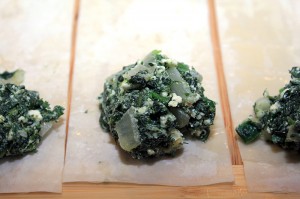 4. Fold the pastry over on an angle to form a triangle.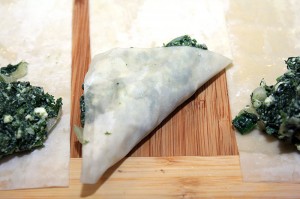 5. Now fold the triangle away from yourself to continue wrapping up the filling.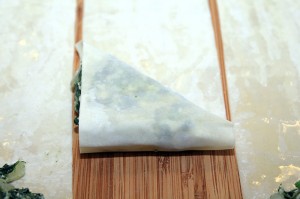 6. Keep repeating the folding process until you reach the end. You can use a little bit of melted butter to help seal the spanakopita.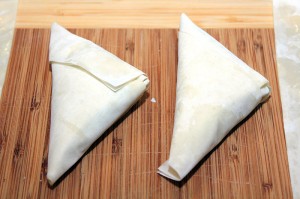 7. Place them on a parchment lined baking sheet and keep them gently covered until you're ready to bake so they don't dry out. Once you're ready to bake them, brush them lightly with the remaining melted butter and bake for 20-25 minutes until they're golden brown.
Recipe is from www.chefinyou.com. The only thing I changed was increasing the ricotta to 4 oz and I adjusted the assembly method to make them a bit smaller.