Tangy. Sweet. Creamy. Crunchy. All great words to describe this coleslaw. This would be nice at a summer barbecue, but I made it most recently to part of my pulled pork sliders. The original recipe gives you directions to shred the red and green cabbage and the carrots yourself, but that is a lot of work and I feel like there would be a lot of leftover cabbage sitting in my fridge for a long time.
You can buy the packaged coleslaw mix in the produce section of any grocery store, but if you want to shred your own feel free to click on the link below for the exact quantities of the veggies.
Serves: 6-8
Total Time: 15 mins

Ingredients
3/4 cup mayonnaise
1/4 cup Dijon mustard
1/4 cup packed light brown sugar
3 tbs apple cider vinegar
2 tbs buttermilk
4 tsp celery seeds
1 tsp salt
1/4 tsp fresh ground pepper
1/8 tsp cayenne pepper
1 340 gram package of pre-made shredded coleslaw mix (red & green cabbage and carrots)
1/4 cup minced fresh parsley
Directions
In a bowl, combine the mayonnaise, mustard, brown sugar, vinegar, buttermilk, celery seeds, salt, pepper and cayenne.  Whisk to combine.
Toss the dressing with the coleslaw mix (or shredded cabbage) and parsley in a large bowl.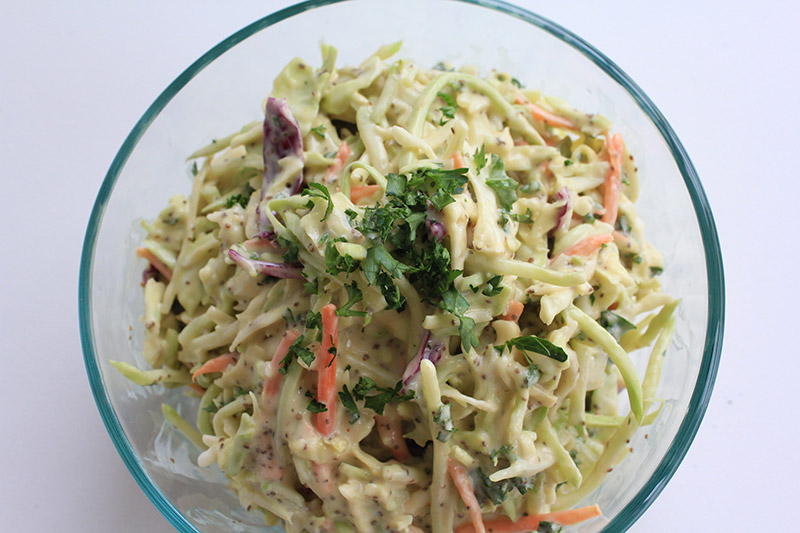 Coleslaw dressing recipe from foodnetwork.com.