As I've mentioned before, James and I try to eat healthy during the week. This way I don't feel so bad when I eat my weight in popcorn at the movies on the weekend. This recipe for Turkey and Sweet Potato Shepherd's Pie is not only healthy, but really tasty and makes great leftovers for lunch the next day.
Total Time: 1 hour
Servings: 4
Ingredients:
1 1/2 pounds sweet potatoes peeled and cubed

2 cloves of garlic peeled and halved
1/4 cup chicken broth
1 package ground turkey (about 12 ounces)
1/2 cup chopped onion
1 medium zucchini chopped
1 cup chopped carrots
1/4 cup of water
1 8 ounce can tomato sauce
1/2 tsp dried sage
salt and pepper to season
Directions:
Preheat the oven to 375 degrees F. In a medium saucepan, cook sweet potatoes and garlic in boiling water for 15 to 20 minutes or until tender; drain. Mash the sweet potatoes and garlic with chicken broth and season with salt and pepper to taste. Set aside.
Meanwhile, in a large skillet over medium heat, cook the turkey and onion until the turkey is browned. Add the zucchini, carrots and water. Bring to a boil, reduce heat and simmer covered for 5-10 minutes until the vegetables are tender. Drain or spoon out any excess liquid otherwise your sauce will end up watery.
Add the tomato sauce, sage and salt and pepper to taste. Cook until just heated through. Spoon the turkey mixture into 1 1/2 quart casserole dish first then spoon the sweet potato mixture on top.
Bake uncovered for 20-25 minutes.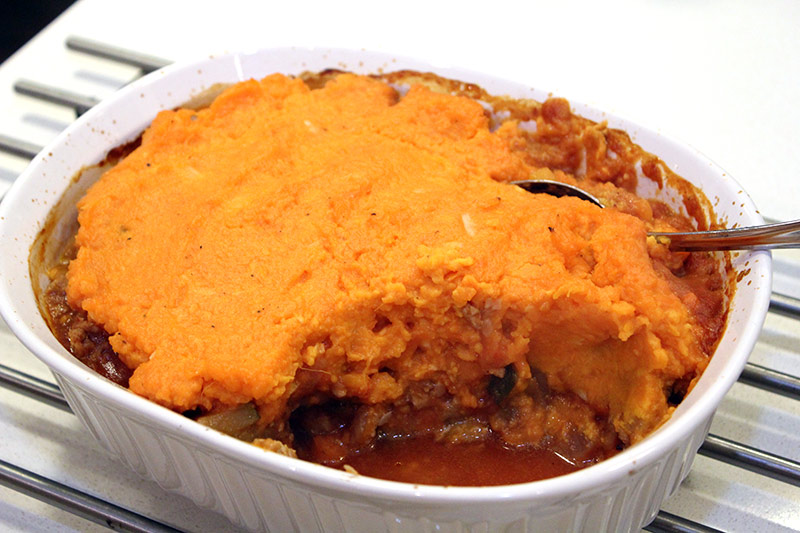 Recipe is a slightly adapted version from Better Homes and Gardens.