It's been a while since I've written a post and with the hot beautiful summer weather we've been having I thought it would be fitting to post a cool refreshing drink: white peach sangria.
This past weekend I had an extra long weekend for Canada Day and there's nothing better than spending an afternoon in the sun with an ice cold drink. I spent time with my friends, worked out, went shopping, worked on my garden, relaxed on my rooftop patio and grilled some yummy dinners; summer is finally here!
If you've never made sangria before you should really make this recipe. I've made this one many many times, it's a delicious combination of white wine, orange juice, peach juice, brandy, triple sec and fresh fruit, you really can't go wrong.
Ingredients:
1 bottle white wine
3 ounces brandy
2 ounces triple sec
1 cup orange juice
1 cup pineapple juice
2 ounces simple syrup (equal parts sugar dissolved into hot water and cooled)
2 ounces white peach puree (about 1 peach peeled and pureed in a food processor)
orange, peach and apple slices
Directions:
In a large pitcher, combine the white wine, brandy, triple sec, orange juice, pineapple juice and simple syrup.
Puree a white peach in the food processor and add it to the mixture.
Add your fresh fruit slices. I use about half each of an apple, an orange and a peach, but you can add more or less as you like.
Refrigerate for 8 hours and serve over ice.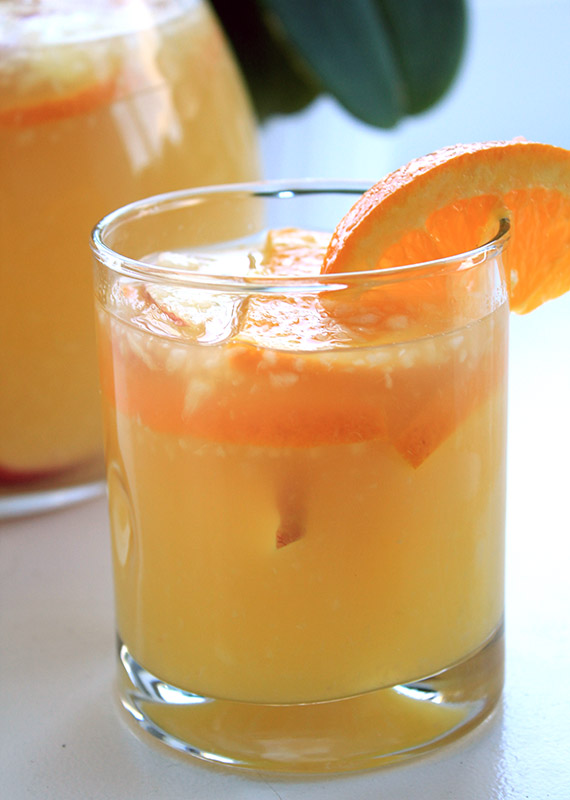 Recipe is from www.foodnetwork.com.