I have been so busy lately, but now that Pentathawod is over, my nerves have calmed and I feel back to normal. It's so nerve-wrecking being in front of a crowd but in the end I think both myself and my partner had a great time being part of this event. We did weightlifting, crossfit wods, sprinting, long jump, javelin, shot-put and steeple chase. I had never done any of those track and field events in my life so it was a lot of fun to try something new.
Now I'm moving on to my next countdown. Vacation! James and I will be heading out on a cruise to Alaska and I'm so excited. We've been on two cruises before so we know just how awesome it's going to be. I've been spending lots of time looking at what we can see at the different ports and what there is to do on the ship. There was one thing I said we absolutely had to do which is go whale watching and last week we booked a whale watching tour with a small group and I'm really hoping to see humpback whales and maybe some orcas.
And lets of course not forget the food. If any of you have been on a cruise you know that the food is always outstanding. You get all dressed up and eat a three course dinner every night. Dessert every night! Thank goodness the trip is only a week long otherwise I'm pretty sure the clothes I left in wouldn't fit at the end.
Now back to the food part. I made mussels and they were amazing! They were quick, easy and delicious, but they look impressive and would be great to make as an appetizer if you had some friends over.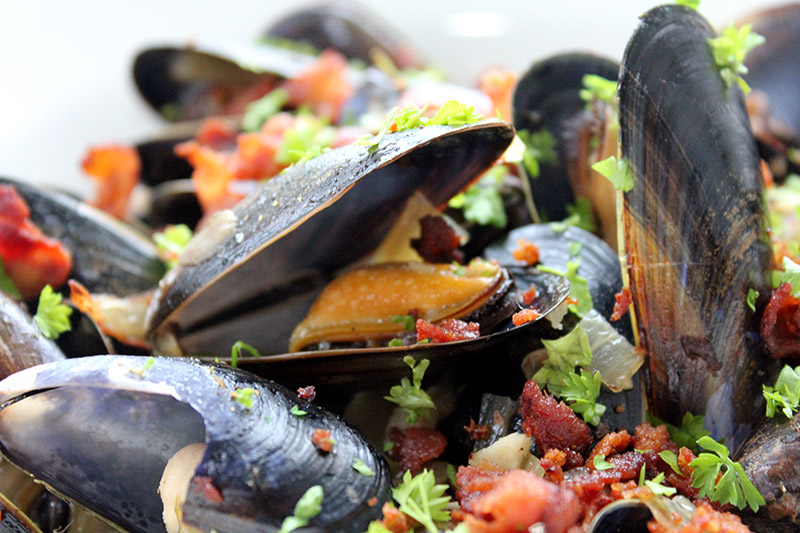 You only need to look at the ingredients to know they're going to be great: bacon, onions, garlic and wine. You really can't go wrong with that combination.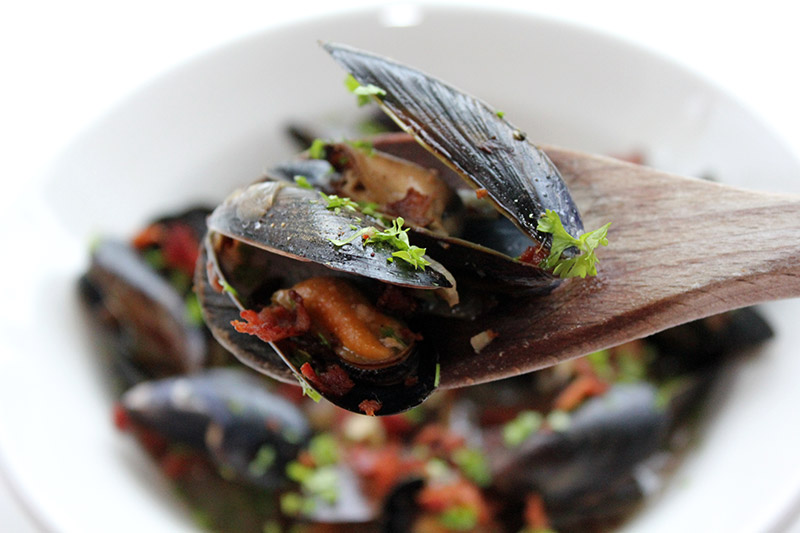 Total Time: 10 minutes
Servings: 24 mussels
Ingredients:
2 dozen mussels
4 slices bacon
1/2 onion diced
2 cloves garlic minced
1 cup white wine
1 bay leaf
1 tbsp tomato paste
pinch of pepper to season
2 tbsp chopped parsley
Directions:
Scrub mussels and remove any beards.
Heat a dutch oven, or medium sized heavy bottomed sauce pan over medium heat. Cook the bacon stirring occasionally until it's cooked and crispy, about 5 minutes.
Remove the bacon and drain out all but 1 tbsp of the bacon fat. Cook the onions, stirring occasionally, until they're softened, about 5 minutes. Add the garlic and cook until fragrant, about 1 minute.
Add the wine and bay leaf, simmer for 5 minutes or until the liquid is reduced by half. Stir in the tomato paste and season with pepper.
Bring the liquid to a boil and add the mussels. Cover and steam until the mussels open, about 5 minutes. Remove from the heat and remove the bay leaf. Discard any mussels that did not open.
Put the mussels in a serving dish, sprinkle with the cooked bacon and parsley.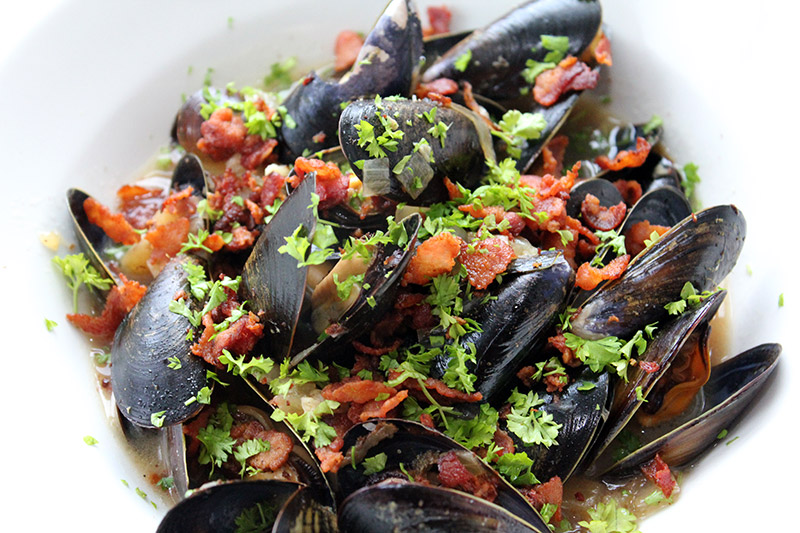 Recipe is from Canadian Living Magazine, January 2014 issue and can also be viewed at www.canadianliving.com.