Do you have a lot of zucchini that you don't know what to do with? When in doubt, make zucchini bread! Even better, make two loaves of zucchini bread, then you can have one for yourself and give one to a friend. Or in my case, take one on a girl's getaway weekend and leave one at home for my hubby so I can say I left him one thing to eat while I was away for three days.
Total Time: 90 minutes
Servings: makes two 8 1/2 x 4 1/2″ loaves
Ingredients:
vegetable oil spray
1 cup walnuts
3 eggs
1 cup vegetable oil
1 1/4 cups sugar
1/2 cup packed light brown sugar
1 tbs vanilla
3 cups all-purpose flour
1 1/2 tsp kosher salt
1 tsp cinnamon
1 tsp baking soda
1/2 tsp baking powder
1/4 tsp nutmeg
3 1/2 cups grated zucchini (about a 1lb zucchini)
1 1/4 cups old fashioned rolled oats, divided
Directions:
Preheat oven to 350 degrees F. Spray two 8 1/2 x 4 1/2″ loaf pans with nonstick spray and line with parchment paper, leaving some overhang. Spread the walnuts on a baking sheet and toast for 8-10 minutes until fragrant, cool and chop.
Whisk eggs, oil, sugars, and vanilla in a large bowl until smooth. In another bowl, whisk flour, salt, cinnamon, baking soda, baking powder, and nutmeg. Make a well in the centre of the dry ingredients and add the egg mixture.  Stir with a wooden spoon until combined. Add the zucchini, walnuts and 1 cup of the oats and stir to combine.
Divide the batter between the two pans and sprinkle the loafs with the remaining 1/4 cup of oats.
Bake for approximately 60 minutes or until a toothpick inserted into the centre of the loaf comes out clean.
*The original recipe calls for it to be baked for 70-80 minutes, but my oven always seems to bake faster so I only needed to cook mine for about 60 minutes.*
Let the loaves cool for about 30 minutes then remove them from the pans.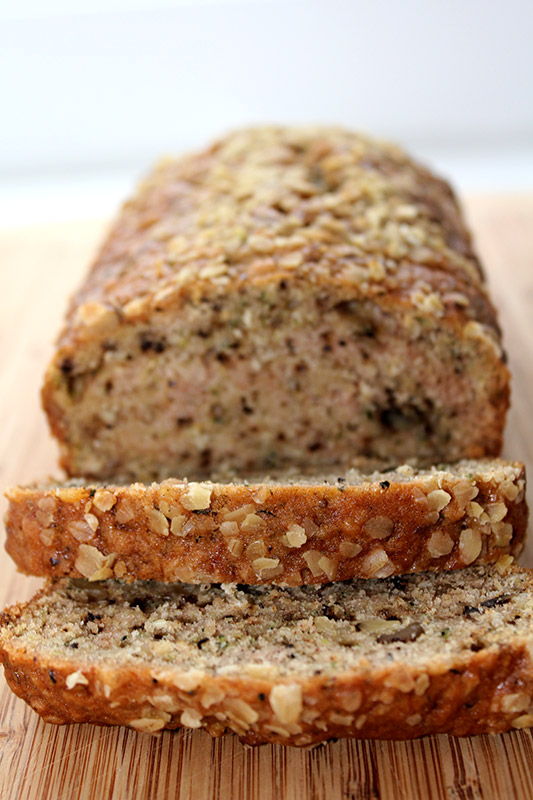 This delicious recipe is from www.bonappetit.com. The only thing I did differently was not sprinkle the top with raw sugar, mostly because I didn't have any and I didn't want to buy it just for that.