What did you all get up to over the weekend? I had a fun filled weekend. On Saturday I finished planting all of my herbs in my balcony pots and cleaned up the deck, now it looks great for summer. I can't wait to sit out there on a sunny Sunday morning and drink my coffee. It's raining again today, but hopefully soon enough we'll have hot sunny days to spend out there.
Sunday was another eventful day as I participated in a 5 km ladies only obstacle run called Woman 2 Warrior, to raise money for Easter Seals, with my amazing friend and workout buddy. While the first obstacle was crawling through water and the last obstacles involved walking through an ice filled pool and climbing a 10 foot half-pipe, we finished in about 36 minutes (12 obstacles in total) and had a great time doing it! I would definitely participate in this run again, so much fun!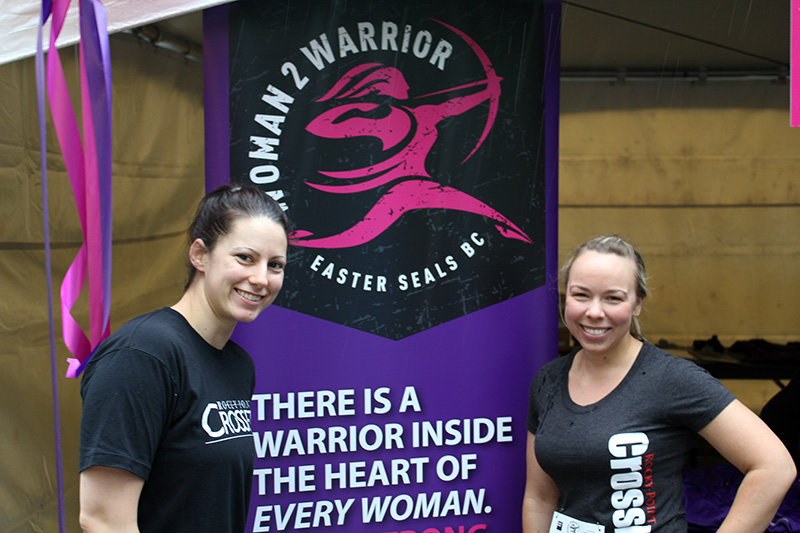 This is Bonnie and myself before we started the run.
And this is us after the run, we came 14th and 15th in our heat!
Now I guess it's time for the cooking part…  how about spinach and goat cheese stuffed chicken breast? I made this recipe the other day and was very happy with the results. With no breading, it was quick and easy to make, not to mention delicious. I love making stuffed chicken recipes. Chicken breasts tend to get overcooked and dry quite easily, but I always find when they are stuffed, the stuffing seems to provide some extra moisture to help prevent the chicken from drying out.
You should make this spinach and goat cheese stuffed chicken for dinner this week, I'm sure you'll enjoy it as much as I did!
Total Time: 40 minutes
Servings: 2 (I halved the original recipe)
Ingredients:
2-3 tbs olive oil
1 shallot finely chopped
1 clove of garlic minced
4 oz of spinach (about 2 cups)
2 oz goat cheese
1/2 tbs grated lemon zest
salt and pepper to taste
2 boneless skinless chicken breasts butterflied
1 1/2 tbs all-purpose flour
Directions:
In large skillet, heat 1 tbs of the olive oil over medium-high heat, cook shallots until translucent, about 3 minutes. Add the garlic and cook for 1 minute. Add spinach and cook, stirring, until it's wilted, about 3 minutes.
In bowl, combine the spinach mixture, goat cheese, lemon zest and season with salt and pepper.
Preheat your oven to 400 degrees F.
Lay each butterflied chicken breast out flat and divide the filling between the two, placing the filling on the side of the chicken breast.
Starting on the side that has the filling, roll the chicken up as tightly as you can and secure with toothpicks. I found 4 toothpicks did the trick.
Season the chicken breasts with salt and pepper and roll in the flour, shaking off any excess.
Heat an oven safe pan on medium-high heat and drizzle with remaining olive oil. Cook chicken, turning occasionally, until golden brown on all sides, about 6 minutes.
Transfer the pan to the oven and bake for about 12 minutes or until the internal temperature reads 165 degrees F with an instant read meat thermometer. Alternatively if you don't have an oven safe pan you can cook the chicken in any skillet you have then transfer it to a baking sheet to continue cooking it in the oven. Remove the toothpicks before serving.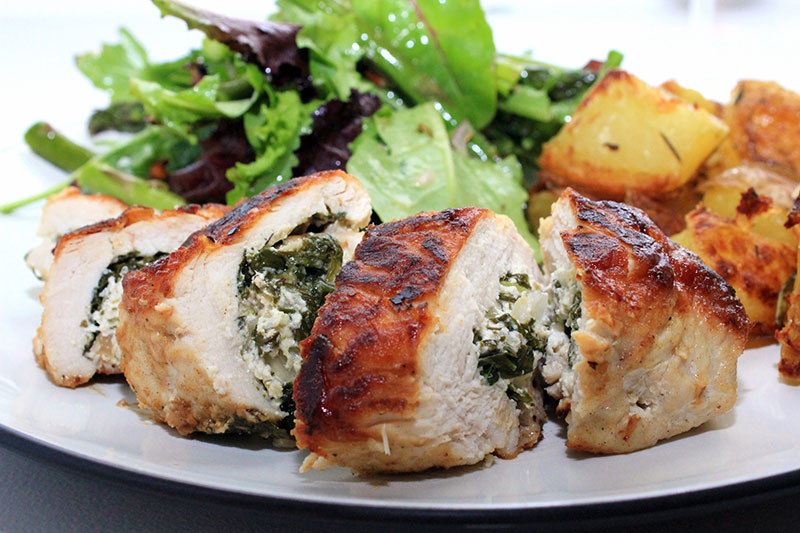 Recipe is from Canadian Living Magazine September 2012 issue and can also be seen at www.canadianliving.com.